New Series Episodes 125 & 126:
Under The Lake / Before The Flood
In 2119, the crew of an underwater base which sits near a flooded town uncovers a crashed spaceship. But an accident while exploring the vessel kills the base commander... who reappears as a hideously distorted phantom, mouthing silent words. When the TARDIS arrives, the Doctor and Clara discover that the number of ghosts haunting the base has started to climb. They realise that the murderous spectres are acting as an interstellar summons -- but the truth about them lies in the hours before the drowning of the village, with the terrible Fisher King.
Forthcoming.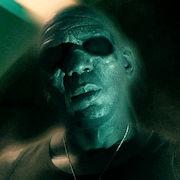 Original Transmission
1: Under The Lake
Date
3rd Oct 2015
Time
8.27pm
Duration
43'15"
· BBC1/HD
5.6m
Appreciation
84%
2: Before The Flood
Date
10th Oct 2015
Time
8.26pm
Duration
42'17"
· BBC1/HD
6.1m
Appreciation
83%
---
Cast
The Doctor
Peter Capaldi
Clara
Jenna Coleman
Moran
Colin McFarlane
Cass
Sophie Stone
Lunn
Zaqi Ismail
O'Donnell
Morven Christie
Bennett
Arsher Ali
Pritchard
Steven Robertson
Prentis
Paul Kaye
Fisher King
Neil Fingleton
Voice of Fisher King
Peter Serafinowicz
Roar of Fisher King
Corey Taylor
---
Crew
Written by
Toby Whithouse
Directed by
Daniel O'Hara
Produced by
Derek Ritchie
Stunt Coordinators
Crispin Layfield
Gordon Seed
Jo McLaren
Stunt Performer
Matt Crook
Choreographer
Ailsa Berk
First Assistant Director
Scott Bates
Second Assistant Director
Danielle Richards
Third Assistant Director
Gareth Jones
Assistant Directors
Chris Thomas
Nick Goolding
Unit Drivers
Sean Evans
Kyle Davies
Location Manager
Nick Clark
Unit Manager
Iestyn Hampson-Jones
Production Manager
James DeHaviland
Production Coordinator
Adam Knopf
Assistant Production Coordinator
Sandra Cosfeld
Production Assistants
Hannah Jones
Jamie Shaw
Assistant Accountant
Justine Wooff
Art Department Accountant
Bethan Griffiths
BSL Monitor
Jean St Clair
Script Supervisor
Nicki Coles
Script Executive
Lindsey Alford
Script Editor
Nick Lambon
Camera Operator
Mark McQuoid
Focus Pullers
Jonathan Vidgen
Steve Rees
Grip
John Robinson
Camera Assistants
Cai Thompson
Matthew Lepper
Scott Waller
Assistant Grip
Sean Cronin
Sound Maintenance Engineers
Tam Shoring
Christopher Goding
Gaffer
Mark Hutchings
Best Boy
Andrew Gardiner
Electricians
Andrew Williams
Bob Milton
Gareth Sheldon
Gawain Nash
Matt Wilson
Supervising Art Director
Tristan Peatfield
Stand by Art Director
Nick Murray
Set Decorator
Adrian Anscombe
Production Buyer
Sarah Frere
Prop Buyers
May Johnson
Vicki Male
Draughtpersons
Kartik Nagar
Ursula Marshall
Prop Master
Paul Smith
Props Chargehand
Kyle Belmont
Standby Props
Liam Collins
Ian Davies
Prop Hands
Scott Howe
Nigel Magni
Matt Watts
Storeman
Jamie Southcott
Concept Artist
Chris Lees
Graphic Artist
Matthew Clark
Storyboard Artist
Mike Collins
Standby Carpenter
Paul Jones
Rigging
Shadow Scaffolding
Practical Electricians
Christian Davies
Austin Curtis
Props Makers
Alan Hardy
Jamie Thomas
Paul Lynch
Jamie Farrell
Props Driver
Gareth Fox
Construction Manager
Terry Horle
Construction Chargehand
Dean Tucker
Chargehand Carpenter
John Sinnott
Carpenters
Tim Burke
Lawrie Ferry
Matt Ferry
Chris Daniels
Julian Tucker
George Rees
Dan Berrow
Keith Richards
Alan Jones
Campbell Fraser
Construction Driver
Jonathan Tylke
Head Scenic Artist
Clive Clarke
Scenic Painters
Steve Nelms
Matt Weston
Paul Murray
Assistant Costume Designer
Georgie Sayer
Costume Supervisor
Simon Marks
Costume Assistants
Andie Mear
Ian Fowler
Jenny Tindle
Make-up Supervisor
Sara Angharad
Make-up Artists
Megan Bowes
James Spinks
Unit Medic
Glyn Evans
Casting Associate
Alice Purser
Assistant Editor
Becky Trotman
VFX Editor
Dan Rawlings
Post Production Coordinator
Samantha Price
Dubbing Mixer
Mark Ferda
ADR Editor
Matthew Cox
Dialogue Editor
Darran Clement
Effects Editor
Harry Barnes
Foley Editor
Jamie Talbutt
Foley Artist
Julie Ankerson
Titles
BBC Wales Graphics
Title Concept
Billy Hanshaw
Online Editor
Geraint Pari Huws
Colourist
Gareth Spensley
Music Conducted & Orchestrated By
Ben Foster
Music Mixed By
Jake Jackson
Music Recorded By
Gerry O'Riordan
Original Theme Music
Ron Grainer
With Thanks to
BBC National Orchestra of Wales
Casting Director
Andy Pryor CDG
Production Executive
Gordon Ronald
Post Production Supervisor
Nerys Davies
Production Accountant
Ceredig Parry
Sound Recordist
Deian Llŷr Humphreys
Costume Designer
Ray Holman
Make-up Designer
Barbara Southcott
Music
Murray Gold
Visual Effects
Milk
Special Effects
Real SFX
Special Creature Effects & Prosthetics
Millennium FX
Editor
Will Oswald
Production Designer
Michael Pickwoad
Director of Photography
Richard Stoddard
Line Producer
Tracie Simpson
Executive Producers
Steven Moffat
Brian Minchin
Working Titles
Whole Story
Ghost In The Machine