New Series Episode 109:
The Time Of The Doctor
A message echoing through all of time and space emanates from the farming village of Christmas on the planet Trenzalore. With the assistance of Clara and Tasha Lem, pontiff of a mysterious religious order, the Doctor discovers that the signal is a message from Gallifrey, coming through a crack in time from another universe. Soon Trenzalore is under siege from massed hordes of the Doctor's worst enemies, as the spectre of the Time War is raised anew. Years pass into centuries, and it seems that the last days of the Doctor's final life are destined to be spent saving Christmas...
Forthcoming.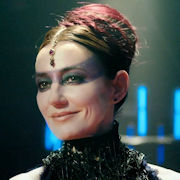 Original Transmission

| | |
| --- | --- |
| | |
| Date | 25th Dec 2013 |
| Time | 7.30pm |
| Duration | 60'58" |
| · BBC1/HD | 11.1m |
| Appreciation | 83% |
---
Cast
The Doctor
Matt Smith
Peter Capaldi
Clara
Jenna Coleman
Tasha Lem
Orla Brady
Dad
James Buller
Linda
Elizabeth Rider
Gran
Sheila Reid
Colonel Albero
Mark Anthony Brighton
Abramal
Rob Jarvis
Marta
Tessa Peake-Jones
Barnable
Jack Hollington
Colonel Meme
Sonita Henry
Voice of Handles
Kayvan Novak
Young Man
Tom Gibbons
Voice
Ken Bones
Cyberman
Aidan Cook
Voice of the Daleks
Nicholas Briggs
Voice of the Cybermen
Nicholas Briggs
Dalek 1
Barnaby Edwards
Dalek 2
Nicholas Pegg
Silent
Ross Mullan
Sontaran
Dan Starkey
Weeping Angel
Sarah Madison
Amy Pond
Karen Gillan
---
Crew
Written by
Steven Moffat
Directed by
Jamie Payne
Produced by
Marcus Wilson
Stunt Coordinator
Crispin Layfield
Stunt Performers
Gordon Seed
Daz Parker
Lloyd Bass
Dani Biernat
Stephen Walsh
1st Assistant Director
John Bennett
2nd Assistant Director
Heddi-Joy Taylor-Welch
3rd Assistant Director
Danielle Richards
Assistant Directors
Gareth Jones
Louisa Cavell
Utility Stand In
Ian William George
Location Manager
Iwan Roberts
Unit Manager
Monty Till
Production Coordinator
Gabriella Ricci
Asst Production Coordinator
Sandra Cosfeld
Production Secretary
Rachel Vipond
Production Assistant
Katie Player
Assistant Accountant
Bethan Griffiths
Art Department Accountant
Simon Wheeler
Script Supervisor
Steve Walker
Camera Operators
Mark McQuoid
Martin Stephens
Focus Pullers
Berndt Wiese
Rich Turner
Grip
Damian Roberts
Camera Assistants
Pete Lowden
Kyle Brown
Natalie Davies
Assistant Grip
Ryan Jarman
Sound Maintenance Engineers
Tam Shoring
Christopher Goding
Gaffer
Mark Hutchings
Best Boy
Stephen Slocombe
Electricians
Billy Harron
Bob Milton
Gafin Riley
Gareth Sheldon
Andrew Williams
Supervising Art Director
Lucienne Suren
Stand By Art Director
Amy Pickwoad
Set Decorator
Adrian Anscombe
Production Buyers
Jayne Davies
May Johnson
Helen O'Leary
Draughtsperson
Kartik Nagar
Prop Master
Paul Smith
Prop Hands
Liam Collins
Ian Davies
Ian Griffin
Jamie Farrell
Kyle Belmont
Roger Hendry
Ryan Milton
Set Dresser
Jamie Southcott
Graphic Designer
Chris Lees
Graphic Artist
Christina Tom
Standby Carpenter
Paul Jones
Standby Rigger
Bryan Griffiths
Practical Electrician
Christian Davies
Props Makers
Alan Hardy
Jamie Thomas
Props Driver
Gareth Fox
Construction Manager
Terry Horle
Construction Chargehand
Dean Tucker
Scenic Artist
Clive Clarke
Assistant Costume Designer
Carly Griffith
Costume Supervisor
Claire Lynch
Costume Assistants
Katarina Cappellazzi
Gemma Evans
Charlotte Bestwick
Make-Up Supervisor
Claire Pritchard-Jones
Make-Up Artists
Emma Cowen
Clare Golds
Danny Marie Elias
Casting Associate
Alice Purser
Assistant Editor
Katrina Aust
VFX Editor
Joel Skinner
Post Production Coordinator
Samantha Price
Dubbing Mixer
Tim Ricketts
ADR Editor
Matthew Cox
Dialogue Editor
Darran Clement
Effects Editor
Paul Jefferies
Foley Editor
Jamie Talbutt
Graphics
Peter Anderson Studio
Online Editor
Geraint Pari Huws
Colourist
Gareth Spensley
Daleks created by
Terry Nation
Cybermen created by
Kit Pedler &
Gerry Davis
Sontarans created by
Robert Holmes
Original Theme Music
Ron Grainer
Casting Director
Andy Pryor CDG
Production Executive
Julie Scott
Script Editor
Derek Ritchie
Post Production Supervisor
Nerys Davies
Production Accountant
Jeff Dunn
Sound Recordist
Deian Llŷr Humphreys
Costume Designer
Howard Burden
Make-Up Designer
Lin Davie
Music
Murray Gold
Visual Effects
Milk
BBC Wales Visual Effects
Special Effects
Real SFX
Miniature Effects
The Model Unit
Prosthetics
Millennium FX
Editor
St John O'Rorke
Production Designer
Michael Pickwoad
Director Of Photography
Neville Kidd
Line Producer
Des Hughes
Executive Producers
Steven Moffat
Brian Minchin