New Series Episode 136:
The Return Of Doctor Mysterio
The Doctor accidentally gives a young boy named Grant the powers of a comic book superhero. Despite promising that he will hide his extraordinary abilities, as an adult Grant becomes a masked vigilante known as the Ghost. He and the Doctor encounter meet again when they save investigative journalist Lucy Fletcher from the clutches of Harmony Shoal, a research and development company that's really a front for an invasion of Earth. But the brain-like creatures behind Harmony Shoal have the ability to possess the human form -- and Grant becomes their next target.
Forthcoming.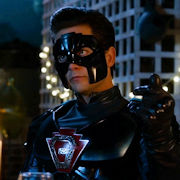 Original Transmission

| | |
| --- | --- |
| | |
| Date | 25th Dec 2016 |
| Time | 5.45pm |
| Duration | 60'22" |
| · BBC1/HD | 7.8m |
| | (overnight) |
| Appreciation | 82 |
---
Cast
The Doctor
Peter Capaldi
Nardole
Matt Lucas
Grant
Justin Chatwin
Lucy
Charity Wakefield
Mr Brock
Tomiwa Edun
Dr Sim
Aleksandar Jovanovic
Young Grant
Logan Hoffman
Teen Grant
Daniel Lorente
Reporter
Sandra Teles
Operator
Tanroh Ishida
Soldier
Vaughn Johseph
---
Crew
Written by
Steven Moffat
Directed by
Ed Bazalgette
Produced by
Peter Bennett
Stunt Coordinators
Crispin Layfield
Derek Lea
Jo McLaren
Stunt Performer
Troy Kenchington
Robbie Keane
Claire Lawrence
Wires
Bob Schofield
Max Schofield
1st Assistant Director
Fletcher Rodley
2nd Assistant Director
James DeHaviland
3rd Assistant Director
Christopher J Thomas
Assistant Directors
Lauren Pate
Rhun Llewelyn
Location Manager
Iwan Roberts
Unit Manager
Beccy Jones
Production Manager
Adam Knopf
Production Coordinator
Sandra Cosfeld
Assistant Production Coordinator
Nicola Chance
Production Assistants
Virginia Bonet
Jamie Shaw
Assistant Accountant
Justine Wooff
Art Department Accountant
Bethan Griffiths
Script Supervisor
Nicki Coles
Script Editor
Nick Lambon
Assistant Script Editor
Emma Genders
Script Executive
Lindsey Alford
Camera Operator
Mark McQuoid
Focus Pullers
Jonathan Vidgen
Elhein De Wet
Grip
John Robinson
Assistant Grip
Sean Cronin
Camera Assistants
Gethin Williams
Drew Marsden
Dan Patounas
Sound Maintenance Engineers
Tam Shoring
Christopher Goding
Gaffer
Mark Hutchings
Best Boy
Andy Gardiner
Electricians
Gawain Nash
Gareth Sheldon
Bob Milton
Sion Davies
Andrew Williams
Supervising Art Director
Paul Spriggs
Stand by Art Director
Christina Tom
Set Decorator
Adrian Anscombe
Production Buyer
Jen Saguaro
Prop Buyers
Jo Pearce
Charlotte Lailey De Ville
Draughtperson
Kartik Nagar
Storyboard Artist
Adam Pescott
Prop Master
Paul Smith
Prop Storeman
Jamie Southcott
Concept Artist
Darren Fereday
Graphic Artist
Matt Clark
Standby Carpenter
Paul Jones
Standby Rigger
Colin Toms
Practical Electrician
Callum Alexander
Construction Manager
Terry Horle
Construction Chargehand
Dean Tucker
Chargehand Carpenter
John Sinnott
Head Scenic Artist
Clive Clarke
Assistant Costume Designer
Zoe Howerska
Costume Supervisor
Kat Willis
Costume Assistants
Rebecca Cunningham
Leila Headon
Jenny Tindle
Make-up Supervisor
James Spinks
Make-up Artists
Megan Bowes
Lolly Goodship
Unit Medic
Glyn Evans
Casting Associate
Ri McDaid-Wren
Casting Assistant
Louis Constantine
Post Production Coordinator
Hannah Jones
Assistant Editor
Becky Trotman
VFX Editor
Dan Rawlings
Dubbing Mixer
Mark Ferda
ADR Editor
Matthew Cox
Dialogue Editor
Darran Clement
Effects Editor
Harry Barnes
Foley Editor
Simon Clement
Foley Artist
Meltem Baytok
Titles
BBC Wales Graphics
Title Concept
Billy Hanshaw
Online Editor
Geraint Pari Huws
Assistant Online Editor
Christine Kelly
Colourist
Gareth Spensley
Music Conducted & Orchestrated By
Alastair King
Music Mixed By
Jake Jackson
Music Recorded By
Gerry O'Riordan
Original Theme Music
Ron Grainer
With Thanks to
BBC National Orchestra of Wales
Casting Director
Andy Pryor CDG
Head of Production
Gordon Ronald
Production Executive
Tracie Simpson
Post Production Supervisor
Samantha Price
Production Accountant
Simon Wheeler
Sound Recordist
Deian Llŷr Humphreys
Costume Designer
Hayley Nebauer
Make-up Designer
Barbara Southcott
Music
Murray Gold
Visual Effects
Milk
BBC Wales VFX
Special Effects
Real SFX
Special Creature Effects & Prosthetics
Millennium FX
Editor
Adam Green
Production Designer
Michael Pickwoad
Director of Photography
Ashley Rowe
Line Producer
Steffan Morris
Executive Producers
Steven Moffat
Brian Minchin