New Series Episode 135:
The Husbands Of River Song
In the year 5343, the Doctor inadvertently becomes embroiled in River Song's scheme to recover a priceless diamond which has become embedded in the brain of Hydroflax, a galactic tyrant whose disembodied head pilots a powerful robot. Not only does River appear not to recognise the Doctor, but she claims to be Hydroflax's wife -- as well as the bride of Ramone, one of her co-conspirators. The heist leads the Doctor and River to a spaceship full of the universe's vilest denizens, and a date with destiny that the Doctor has been avoiding for a very long time.
Forthcoming.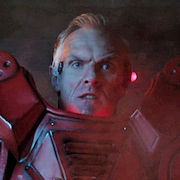 Original Transmission

| | |
| --- | --- |
| | |
| Date | 25th Dec 2015 |
| Time | 5.17pm |
| Duration | 56'06" |
| · BBC1/HD | 7.7m |
| Appreciation | 82% |
---
Cast
The Doctor
Peter Capaldi
River Song
Alex Kingston
Nardole
Matt Lucas
King Hydroflax
Greg Davies
Ramone
Phillip Rhys
Flemming
Rowan Polonski
Scratch
Robert Curtis
Concierge
Anthony Cozens
Alphonse
Chris Lew Kum Hoi
Receptionist
Nicolle Smartt
King Hydroflax's Body
Liam Cook
Voice of Hydroflax
Nonso Anozie
---
Crew
Written by
Steven Moffat
Directed by
Douglas Mackinnon
Produced by
Nikki Wilson
Stunt Coordinators
Crispin Layfield
Dani Biernat
Jo McLaren
Stunt Performers
Belinda McGinley
Rob Jarman
1st Assistant Director
Francesco Reidy
2nd Assistant Director
James DeHaviland
3rd Assistant Director
Danielle Richards
Assistant Directors
Chris Thomas
Gareth Jones
Alex Miarli
Unit Drivers
Sean Evans
Kyle Davies
Location Manager
Iwan Roberts
Unit Manager
Iestyn Hampson-Jones
Production Coordinator
Adam Knopf
Assistant Production Coordinator
Sandra Cosfeld
Production Assistants
Siôn Crowle
Jade Stephenson
Sheryl Bradford
Jamie Shaw
Assistant Accountant
Justine Wooff
Art Department Accountant
Bethan Griffiths
Script Supervisor
Nicki Coles
Script Executive
Lindsey Alford
Script Editor
David Davis
Camera Operator
Mark McQuoid
Focus Pullers
Jonathan Vidgen
Steve Rees
Grip
John Robinson
Camera Assistants
Cai Thompson
Matthew Lepper
Scott Waller
Assistant Grip
Sean Cronin
Sound Maintenance Engineers
Tam Shoring
Christopher Goding
Gaffer
Mark Hutchings
Best Boy
Andrew Gardiner
Electricians
Bob Milton
Gareth Sheldon
Gawain Nash
Rob Fernandes
Andrew Williams
Supervising Art Director
Dafydd Shurmer
Standby Art Director
Chris Barber
Set Decorator
Adrian Anscombe
Production Buyer
Linda Morgan
Prop Buyers
Vicki Male
May Johnson
Draughtpersons
Zsofia Ekler
Julia Jones
Prop Master
Paul Smith
Props Chargehand
Kyle Belmont
Standby Props
Liam Collins
Jonathan Barclay
Prop Hands
Scott Howe
Nigel Magni
Matt Watts
Storeman
Jamie Southcott
Concept Artist
Stephen Cooper
Graphic Artist
Matthew Clark
Standby Carpenter
Paul Jones
Rigging
Shadow Scaffolding
Standby Rigger
Colin Toms
Practical Electricians
Christian Davies
Austin Curtis
Props Makers
Alan Hardy
Jamie Thomas
Props Driver
Gareth Fox
Construction Manager
Terry Horle
Construction Chargehand
Dean Tucker
Chargehand Carpenter
John Sinnott
Carpenters
Tim Burke
Lawrie Ferry
Matt Ferry
Chris Daniels
Julian Tucker
George Rees
Dan Berrow
Keith Richards
Campbell Fraser
Mark Painter
Joe Painter
Michael Venables
Construction Driver
Jonathan Tylke
Construction Labourer
Mike Cox
Head Scenic Artist
Clive Clarke
Painters
Steve Nelms
Deb McShane
Paul Murray
Assistant Costume Designers
Georgie Sayer
Simon Marks
Costume Assistants
Andie Mear
Ian Fowler
Jenny Tindle
Make-up Supervisor
Sara Angharad
Make-up Artists
Megan Bowes
James Spinks
Unit Medic
Glyn Evans
Casting Associate
Alice Purser
Assistant Editors
Becky Trotman
Robbie Gibbon
VFX Editor
Dan Rawlings
Post Production Coordinators
Hannah Jones
Joanne Riggs
Dubbing Mixer
Tim Ricketts
ADR Editor
Matthew Cox
Dialogue Editor
Darran Clement
Effects Editor
Harry Barnes
Foley Editor
Jamie Talbutt
Foley Artist
Julie Ankerson
Titles
BBC Wales Graphics
Title Concept
Billy Hanshaw
Assistant Online Editor
Christine Kelly
Online Editor
William Osman
Colourist
Gareth Spensley
Music Conducted & Orchestrated By
Alastair King
Music Mixed By
Jake Jackson
Music Recorded By
Gerry O'Riordan
Original Theme Music
Ron Grainer
Kahler created by
Toby Whithouse
Casting Director
Andy Pryor CDG
Head of Production
Gordon Ronald
Production Executive
Tracie Simpson
Post Production Supervisor
Samantha Price
Production Accountant
Simon Wheeler
Sound Recordist
Deian Llŷr Humphreys
Costume Designer
Ray Holman
Make-up Designer
Barbara Southcott
Music
Murray Gold
Visual Effects
Axis VFX
Special Effects
Real SFX
Special Creature Effects & Prosthetics
Millennium FX
Editor
Adam Green
Production Designer
Michael Pickwoad
Director of Photography
Suzie Lavelle
Line Producer
Steffan Morris
Executive Producers
Steven Moffat
Brian Minchin