Serial BB:
The War Machines
Arriving in 1966 London, the Doctor and Dodo are excited to see that construction of the Post Office Tower has been completed. Visiting the building, they are introduced to WOTAN, an incredible new computer designed to link up with other computers worldwide. But little does anyone suspect, WOTAN has become sentient and is using its abilities to take hypnotic control of its creators. Its mission is not to serve mankind, but rather to eradicate it, so that artificial life can become the new dominant lifeform on Earth.
To replace the historical adventures in which they felt viewers had become disinterested, Doctor Who producer Innes Lloyd and story editor Gerry Davis decided to set more stories on contemporary (or near-future) Earth. Additionally, the production team wanted to ground Doctor Who more firmly in reality and scientific fact, and to this end Davis began interviewing a number of noted scientists in search of someone who might be able to creatively advise him in this respect.
After meeting in early 1966 with Dr Alex Comfort, Imperial College's Professor Eric Laithwaite and astronomer Patrick Moore, Davis finally encountered Dr Christopher "Kit" Pedler of London University. Pedler was a physician, surgeon, pathologist and microbiologist whose particular interest was the retina. He had also appeared in an episode of the programme Horizon. As a means of gauging Pedler's suitability for Doctor Who, Davis asked him to imagine what might happen if the newly-completed Post Office Tower took over -- a question he had posed to previous candidates with little creative success. Pedler suggested that this might be perpetrated by a rogue computer which -- because it would be immobile inside the Tower -- would act via the telephone and through robotic agents.
Kit Pedler was asked to imagine what might happen if the newly-completed Post Office Tower took over
In the wake of this meeting, Lloyd and Davis had not only found their "scientific adviser", but also had the makings of a new storyline, which was fleshed out by Davis. BBC staff writer Pat Dunlop -- whose credits included Dr Finlay's Casebook -- was then asked to expand the storyline, now called "The Computers" into a full script. After writing one draft of the first episode, however, Dunlop asked to be removed from the assignment due to commitments to the soap opera United!. Davis therefore asked Ian Stuart Black, who had just written The Savages, to step into the breach. Black was commissioned on March 15th.
It was initially planned that Black's scripts would introduce a new companion, called Richard (or "Rich") to replace Steven Taylor, who had been written out in The Savages, the story immediately preceding "The Computers". Rich, who was developed by Lloyd and Davis during March, would meet the Doctor and Dodo in a nightclub and join them in their travels. By mid-April, however, Lloyd and Davis had decided to make a clean sweep of companions, and Jackie Lane's contract was extended only up to episode two of "The Computers". The imminent exit of both Steven and Dodo from Doctor Who was revealed to the public on April 26th.
Fearing that Doctor Who was in danger of appearing stodgy and old-hat, Lloyd and Davis were keen to introduce to the series a companion team which would be hipper and more in tune with the Swinging Sixties. Rich -- now renamed Ben Jackson -- already fit this mold, and it was thought that a slightly older female companion than the typical Doctor Who teenaged schoolgirl would complement him well. As such, Lloyd and Davis created Dodo's replacement, Polly (whose surname, Wright, was never revealed on screen). Black was asked to amend his scripts to have both Ben and Polly join the Doctor at the story's conclusion. Auditions for the new roles were held in mid-April.
Cast as Ben was Michael Craze, whose work as a juvenile had primarily been in musical theatre. He then moved on to film and television as a teenager, including the science-fiction programme Target Luna, an early Doctor Who prototype. (Another actor vying for the part was Frazer Hines, who later in the year would be cast as Jamie McCrimmon.) The role of Polly went to Anneke Wills, whom the production team had met some weeks earlier when her then-husband, Michael Gough, played the titular villain in The Celestial Toymaker. Gough's enjoyment of his time on Doctor Who contributed to Wills' decision to accept the part. Wills had a number of television credits to her name, including The Avengers and No Hiding Place. Also auditioning for the role was Deborah Watling, whom Lloyd felt was too young; a year later, she would win the role of companion Victoria Waterfield. The two new regulars were unveiled to the press on June 23rd. Both Craze and Wills were signed for four serials on May 26th.
Originally, those under WOTAN's thrall were discernible because their hands became skeletal
Meanwhile, "The Computers" had been renamed The War Machines and was assigned the production code Serial BB. A notable deletion from the storyline was that those under WOTAN's thrall were originally intended to be discernible because their hands would take on a skeletal aspect (forcing characters like Dodo and Professor Brett to wear gloves to hide this mark). As well, Sir Charles Summer's first name was initially Robert, while journalist Roy Stone's surname had been Pails.
The director named to the story was Michael Ferguson. Two years earlier, Ferguson had been an assistant floor manager on The Daleks and had only recently completed the BBC's internal director's course, handling some episodes of Compact. Work began on The War Machines on May 22nd with a day spent at various locations near the Post Office Tower. Unfortunately, Ferguson was refused permission to film in the Tower itself, which had been open for less than a week. Two days' filming at the Ealing Television Film Studios followed on the 23rd and 24th, concentrating on sequences at the warehouse where the War Machines were constructed. The Ealing backlot was used on May 25th for material at the market. May 26th saw the team head back out on location to various spots in London.
Studio work then began on June 10th; as usual, each episode was taped on consecutive Fridays at Riverside 1. For the first time, each installment of The War Machines began with a special animation sequence, designed by Bernard Lodge, to announce the title, author and episode number. This was a practise which would be employed sporadically over the next few years.
On June 20th Innes Lloyd wrote to Jackie Lane, apologising that she was "a victim of circumstance"
June 17th marked Jackie Lane's final involvement in Doctor Who. On the 20th, Lloyd sent her a letter apologising for the fact that she was "a victim of circumstance" and wishing her well for the future. Unfortunately, Lane found herself badly typecast and ultimately gave up on acting. She served as a secretary to the Australian Vice Consul in Paris and started an antiques business in London before finally getting back into the entertainment business as an agent. Lane's focus has been on voiceover artistes, and she has counted the Fourth Doctor, Tom Baker, amongst her clients.
Although the third production block would continue for another serial, The War Machines brought Doctor Who's third season to a close on July 16th. Meanwhile, behind the scenes, Lloyd had finally received permission to replace William Hartnell with a new actor. This had been unsuccessfully attempted by Lloyd's predecessor, John Wiles, but Hartnell's health and behaviour had now deteriorated to the point that Lloyd's argument was more than convincing. As the screen went dark on Season Three, viewers could have little concept of how much the next set of episodes would quite literally change the face of Doctor Who forever...
Doctor Who: The Handbook: The First Doctor by David J Howe, Mark Stammers and Stephen James Walker (1994), Virgin Publishing, ISBN 0 426 20430 1.
Doctor Who: The Sixties by David J Howe, Mark Stammers and Stephen James Walker (1992), Virgin Publishing, ISBN 1 85227 420 4.
Doctor Who Magazine #185, 15th April 1992, "Archive: The War Machines" by Andrew Pixley, Marvel Comics UK Ltd.
Doctor Who Magazine Special Edition #7, 12th May 2004, "I'm Into Something Good" by Andrew Pixley, Panini Publishing Ltd.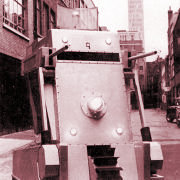 Original Transmission
Episode 1
Date
25th Jun 1966
Time
5.35pm
Duration
24'01"
Viewers

(more)

5.4m (71st)
Appreciation
49%
Episode 2
Date
2nd Jul 1966
Time
6.56pm
Duration
24'00"
Viewers

(more)

4.7m (76th)
Appreciation
45%
Episode 3
Date
9th Jul 1966
Time
5.35pm
Duration
23'58"
Viewers

(more)

5.3m (62nd)
Appreciation
44%
Episode 4
Date
16th Jul 1966
Time
5.17pm
Duration
23'11"
Viewers

(more)

5.5m (67th)
Appreciation
39%
---
Cast
Dr Who
William Hartnell
Dodo
Jackie Lane
Major Green
Alan Curtis
Professor Brett
John Harvey
Polly
Anneke Wills
Kitty
Sandra Bryant
Ben
Michael Craze
Flash
Ewan Proctor
Sir Charles Summer
William Mervyn
Professor Krimpton
John Cater
American journalist
Ric Felgate
Interviewer
John Doye
Workers
Desmond Cullum-Jones
Eddie Davis
Tramp
Roy Godfrey
Taxi-driver
Michael Rathborne
Machine Operator
Gerald Taylor
Captain
John Rolfe
Sergeant
John Boyd-Brent
Corporal
Frank Jarvis
Soldier
Robin Dawson
Television Newsreader
Kenneth Kendall
The Minister
George Cross
Garage Mechanic
Edward Colliver
Man in telephone box
John Slavid
Radio Announcer
Dwight Whylie
US Correspondent
Carl Conway
The voice of WOTAN
Gerald Taylor
---
Crew
Written by
Ian Stuart Black
Pat Dunlop (uncredited)
Based on an idea by
Kit Pedler
Directed by
Michael Ferguson
Produced by
Innes Lloyd
Title music by
Ron Grainer and
the BBC Radiophonic Workshop
Costumes by
Daphne Dare
Makeup by
Sonia Markham
Lighting
George Summers
Sound
David Hughes
Film Cameraman
Alan Jonas
Film Editor
Eric Mival
Story Editor
Gerry Davis
Designer
Raymond London
---
Working Titles
Whole Story
The Computers