Serial P:
The Crusade
In 12th-century Palestine, Barbara is kidnapped by the evil Emir El Akir while Ian is knighted for helping save the life of King Richard. The Doctor and Vicki are entangled in Richard's attempts to force his sister Joanna to marry Saphadin, brother of the Saracen leader Saladin, in order to bring an end to the Crusade. Ian, meanwhile, sets out in search of their lost companion.
David Whitaker formally ended his tenure as Doctor Who's story editor on October 31st, 1964. During the transition period while he was being trailed by his successor, Dennis Spooner, Whitaker had written one adventure, The Rescue, to help introduce new companion Vicki. On November 1st, with Whitaker now having officially left the production team, Spooner took the opportunity to commission him again, this time for an historical called "The Saracen Hordes" ("The Lionheart" may also have been considered as a title).
In developing his storyline, Whitaker was particularly inspired by two events which occurred in the autumn of 1191. The first was an attempt, in October of that year, by King Richard I to arrange the marriage of his widowed sister, Joanna, to al-Adil Saif-ed-Din (known to the Europeans as "Saphadin"), the brother of Muslim ruler Salah al-Din al-Ayyubi (known as "Saladin"). Whitaker also made use of a late November incident in which a hunting party led by Richard was waylaid by Saracens outside Jaffa; Richard was spared captivity when William de Preux convinced the attackers that he was actually the King.
William Hartnell objected to dialogue which implied an incestuous relationship between Richard and Joanna
The director assigned to Serial P was Douglas Camfield, who had impressed producer Verity Lambert when he helmed the fourth episode of Planet Of Giants (which was eventually edited down to form half of the third televised episode) toward the end of the previous recording block. Camfield and Spooner were both very pleased with Whitaker's scripts, and in particular his dialogue. Less content, apparently, was William Hartnell, who felt that some dialogue implying an incestuous relationship between Richard and Joanna was inappropriate in Doctor Who. The offending material was removed.
Three days of filming at the Ealing Television Film Studios began on February 16th. Whitaker's storyline had been structured to minimise Ian's involvement in the third episode, allowing William Russell to take a week's holiday; his only scene in that installment was prerecorded at this time. Russell was also scheduled to film the scene where an army of ants crawls up Ian's arm. Russell refused to participate in this shot, and production assistant Viktors Ritelis agreed to double for him.
By the time studio recording began on March 5th, the serial had been renamed The Crusade; as usual, each episode would be taped on consecutive Fridays in Riverside Studio 1. Amongst those considered for the part of Richard was Nicholas Courtney, who would later play the recurring role of Brigadier Lethbridge-Stewart; for this story, however, Courtney lost out to Julian Glover. Joanna was portrayed by Jean Marsh, whose first husband had been Jon Pertwee (later to play the Third Doctor); Marsh herself would imminently be cast as short-lived companion Sara Kingdom. Also in the running for the role of Joanna was Adrienne Hill, who would soon play Katarina, another companion with a brief tenure on Doctor Who. It was on March 19th -- the day that The Wheel Of Fortune was taped -- that Maureen O'Brien was issued a new contract for this serial and the next two in production. This replaced the extension of January 28th, likely because O'Brien had been granted a raise.
It was around the time that The Crusade was in production that Lambert decided she would leave Doctor Who at the end of the current recording block. With Whitaker and associate producer Mervyn Pinfield having already moved on, this meant that all of the original production triumvirate would have departed from Doctor Who.
Doctor Who: The Handbook: The First Doctor by David J Howe, Mark Stammers and Stephen James Walker (1994), Virgin Publishing, ISBN 0 426 20430 1.
Doctor Who: The Sixties by David J Howe, Mark Stammers and Stephen James Walker (1992), Virgin Publishing, ISBN 1 85227 420 4.
Doctor Who Magazine #259, 17th December 1997, "Archive: The Crusade" by Andrew Pixley, Panini UK Ltd.
Doctor Who Magazine Special Edition #7, 12th May 2004, "I'm Into Something Good" by Andrew Pixley, Panini Publishing Ltd.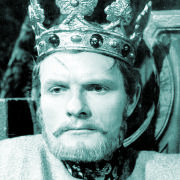 Original Transmission
1: The Lion
Date
27th Mar 1965
Time
5.42pm
Duration
24'56"
Viewers

(more)

10.5m (16th)
Appreciation
51%
2: The Knight Of Jaffa
Date
3rd Apr 1965
Time
5.43pm
Duration
23'28"
Viewers

(more)

8.5m (29th)
Appreciation
50%
3: The Wheel Of Fortune
Date
10th Apr 1965
Time
5.41pm
Duration
24'51"
Viewers

(more)

9.0m (32nd)
Appreciation
49%
4: The Warlords
Date
17th Apr 1965
Time
5.40pm
Duration
23'40"
Viewers

(more)

9.5m (27th)
Appreciation
48%
---
Cast
Dr Who
William Hartnell
Ian Chesterton
William Russell
Barbara Wright
Jacqueline Hill
Vicki
Maureen O'Brien
Richard the Lionheart
Julian Glover
William des Preaux
John Flint
El Akir
Walter Randall
Reynier de Marun
David Anderson
William de Tornebu
Bruce Wightman
Ben Daheer
Reg Pritchard
Thatcher
Tony Caunter
Saphadin
Roger Avon
Saladin
Bernard Kay
Saracen Warriors
Derek Ware
Valentino Musetti
Chris Konyils
Raymond Novak
Anthony Colby
Joanna
Jean Marsh
Chamberlain
Robert Lankesheer
Sheyrah
Zorah Segal
Luigi Ferrigo
Gabor Baraker
Haroun
George Little
Safiya
Petra Markham
Earl of Leicester
John Bay
Turkish Bandit
David Brewster
Maimuna
Sandra Hampton
Fatima
Viviane Sorrel
Hafsa
Diana McKenzie
Ibrahim
Tutte Lemkow
Man-at-Arms
Billy Cornelius
---
Crew
Written by
David Whitaker
Directed by
Douglas Camfield
Produced by
Verity Lambert
Fight Arranger
Derek Ware
Title music by
Ron Grainer and
the BBC Radiophonic Workshop
Incidental music composed and conducted by
Dudley Simpson
Film Cameraman
Peter Hamilton
Film Editor
Pam Bosworth
Lighting
Ralph Walton
Sound
Brian Hiles
Costumes supervised by
Daphne Dare
Make-up supervised by
Sonia Markham
Story Editor
Dennis Spooner
Designer
Barry Newbery
---
Archive Holdings
Episodes Missing
Episodes 2, 4
Clips Extant
None
Telesnaps Surviving
Episodes 2, 4
---
Working Titles
Whole Story
The Saracen Hordes
The Lionheart
Episode 2
Damsel In Distress
Episode 3
Changing Fortunes
Episode 4
The Knight Of Jaffa