Serial P:
The Crusade
In 12th-century Palestine during the Third Crusade, the time travellers stumble into an attempt by the sinister El Akir to kidnap King Richard the Lionheart on behalf of Saladin, the Saracen ruler. Although Richard is saved, Barbara is captured. The Doctor, Ian and Vicki implore Richard to rescue their friend -- even winning the support of the King's sister, Joanna -- but the Lionheart's pride makes him hostile to any suggestion that he negotiate with his sworn enemies. And while Saladin treats Barbara kindly, she has caught the eye of El Akir, whose intentions are far less noble.
David Whitaker formally ended his tenure as Doctor Who's story editor on October 31st, 1964. During the transition period while he was being trailed by his successor, Dennis Spooner, Whitaker had received permission to write The Rescue in order to introduce new companion Vicki. On November 1st, with Whitaker now having officially left the production team, Spooner took the opportunity to commission him again, this time for an historical adventure called "The Saracen Hordes". ("The Lion-heart" may have also been considered as a title.) The term "Saracen" was commonly used by medieval Christians to refer to Muslims, not falling out of common usage until the nineteenth century -- and, indeed, Whitaker's serial would be set during the Third Crusade.
Spanning 1189 to 1192, the Third Crusade was an attempt, only partially successful, to wrest control of the Holy Land from the Muslim sultan of Egypt and Syria: Salah ad-Din, also known by the Anglicised form of "Saladin". A series of incidents had provoked Saladin to the conquest of the Kingdom of Jerusalem in 1187. In response, crusaders set forth from England, France, Germany, and elsewhere. The English forces were initially led by King Henry II, but upon his death in July 1189, the crown passed to Richard I, known as the Lionheart. The Europeans seized cities such as Jaffa and Acre, but were unable to retake Jerusalem. The Crusade culminated in an agreement that Saladin would remain in control of the city, but with provisions for access by unarmed Christians. Saladin died of fever several months later, and Richard perished following an injury in battle in 1199. The peace they forged would be short-lived, as the Fourth Crusade was declared in 1202.
David Whitaker was particularly inspired by two events which occurred in the autumn of 1191
In developing his storyline, Whitaker was particularly inspired by two events which occurred in the autumn of 1191. The first was an attempt by Richard, in October of that year, to arrange the marriage of his widowed sister Joanna (also known as Joan) to the brother of Saladin, al-Adil Saif-ed-Din (known to the Europeans as "Saphadin"). Whitaker also made use of a late November incident in which a hunting party led by Richard was waylaid by Saracens outside Jaffa; Richard was spared captivity when William de Preux convinced the ambushers that he was actually the King.
The director assigned to "The Saracen Hordes" was Douglas Camfield, who had impressed producer Verity Lambert when he handled portions of Planet Of Giants towards the end of the previous recording block. Camfield and Spooner were both very pleased with Whitaker's scripts, and his dialogue in particular. Apparently less content was William Hartnell, who felt that lines which implied an incestuous relationship between Richard and Joanna were inappropriate in Doctor Who. The offending material was removed.
Julian Glover was cast as Richard but, at one stage, Nicholas Courtney was also considered. Courtney would later create one of Doctor Who's most enduring characters when Camfield hired him to play Lethbridge-Stewart in 1968's The Web Of Fear. Joanna was portrayed by Jean Marsh, whose first husband had been Jon Pertwee (later to play the Third Doctor). Marsh herself would imminently be cast as short-lived companion Sara Kingdom in the Camfield-directed The Daleks' Master Plan. Also a candidate for Joanna was Adrienne Hill, who would soon be cast in The Myth Makers as Katarina, another Doctor Who companion with a very brief tenure. Aware of Whitaker's original intentions, Glover and Marsh were keen to reinstate the sensual undertones of the siblings' relationship through their performance. However, they were deterred from doing so by Verity Lambert who advised them, "Don't think I don't know what you're doing."
Three days of filming at the BBC Television Film Studios in Ealing, London began on February 16th, 1965. Whitaker's storyline had been structured to minimise Ian's involvement in the third episode, The Wheel Of Fortune, so that William Russell could take a week's holiday; his only scene in that installment was pre-filmed. However, Russell refused to participate in the shot where an army of ants crawled up Ian's arm, and production assistant Viktors Ritelis agreed to double for him. Other filming at Ealing included material in the woods where Richard was ambushed, and in the streets of Lydda.
The week before studio recording began, it was announced that producer Verity Lambert would be leaving Doctor Who
By the time studio recording began on March 5th, the serial had been renamed The Crusade; as usual, each episode would be taped on consecutive Fridays in Riverside Studio 1 in Hammersmith, London. During the preceding week, it was announced that Verity Lambert would be leaving Doctor Who at the end of the current recording block. With Whitaker and associate producer Mervyn Pinfield having already moved on, this meant that all of Doctor Who's original production triumvirate would have moved on.
On March 26th, camera rehearsals for The Warlords were disrupted when Tutte Lemkow, playing the bandit Ibrahim, deeply cut his finger with his knife and had to be taken to the hospital for tetanus injections. The next day, the first episode of The Crusade was broadcast. Doctor Who was still preceded by Juke Box Jury and followed by a short news update. After that, however, the BBC had now scheduled the third season of the American sitcom The Dick Van Dyke Show.
Doctor Who Magazine #259, 17th December 1997, "Archive: The Crusade" by Andrew Pixley, Panini UK Ltd.
Doctor Who Magazine Special Edition #7, 12th May 2004, "I'm Into Something Good" by Andrew Pixley, Panini Publishing Ltd.
Doctor Who: The Complete History #5, 2016, "Story 14: The Crusade", edited by John Ainsworth, Hachette Partworks Ltd.
Doctor Who: The Handbook: The First Doctor by David J Howe, Mark Stammers and Stephen James Walker (1994), Virgin Publishing.
Doctor Who: The Sixties by David J Howe, Mark Stammers and Stephen James Walker (1992), Virgin Publishing.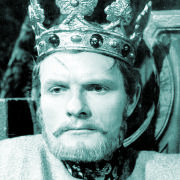 Original Transmission
1: The Lion
Date
27th Mar 1965
Time
5.42pm
Duration
24'56"
Viewers

(more)

10.5m (16th)
Appreciation
51%
2: The Knight Of Jaffa
Date
3rd Apr 1965
Time
5.43pm
Duration
23'28"
Viewers

(more)

8.5m (29th)
Appreciation
50%
3: The Wheel Of Fortune
Date
10th Apr 1965
Time
5.41pm
Duration
24'51"
Viewers

(more)

9.0m (32nd)
Appreciation
49%
4: The Warlords
Date
17th Apr 1965
Time
5.40pm
Duration
23'48"
Viewers

(more)

9.5m (27th)
Appreciation
48%
---
Cast
Dr Who
William Hartnell (bio)
Ian Chesterton
William Russell (bio)
Barbara Wright
Jacqueline Hill (bio)
Vicki
Maureen O'Brien (bio)
Richard the Lionheart
Julian Glover
William des Preaux
John Flint
El Akir
Walter Randall
Reynier de Marun
David Anderson
William de Tornebu
Bruce Wightman
Ben Daheer
Reg Pritchard
Thatcher
Tony Caunter
Saphadin
Roger Avon
Saladin
Bernard Kay
Saracen Warriors
Derek Ware
Valentino Musetti
Chris Konyils
Raymond Novak
Anthony Colby
Joanna
Jean Marsh (bio)
Chamberlain
Robert Lankesheer
Sheyrah
Zorah Segal
Luigi Ferrigo
Gabor Baraker
Haroun
George Little
Safiya
Petra Markham
Earl of Leicester
John Bay
Turkish Bandit
David Brewster
Maimuna
Sandra Hampton
Fatima
Viviane Sorrel
Hafsa
Diana McKenzie
Ibrahim
Tutte Lemkow
Man-at-Arms
Billy Cornelius
---
Crew
Written by
David Whitaker (bio)
Directed by
Douglas Camfield (bio)
Fight Arranger
Derek Ware
Title music by
Ron Grainer and
the BBC Radiophonic Workshop
Incidental music composed and conducted by
Dudley Simpson
Film Cameraman
Peter Hamilton
Film Editor
Pam Bosworth
Lighting
Ralph Walton
Sound
Brian Hiles
Costumes supervised by
Daphne Dare
Make-up supervised by
Sonia Markham
Story Editor
Dennis Spooner (bio)
Designer
Barry Newbery
Producer
Verity Lambert (bio)
---
Archive Holdings
Episodes Missing
Episodes 2, 4
Clips Extant
None
Telesnaps Surviving
Episodes 2, 4
---
Working Titles
Whole Story
The Saracen Hordes
The Lion-heart
Episode 2
Damsel In Distress
Episode 3
Changing Fortunes
Episode 4
The Knight Of Jaffa