The Sarah Jane Adventures Episodes 25 & 26:
Prisoner Of The Judoon
Sarah Jane and her friends investigate what seems to be a meteorite, but turns out to be a crashlanded Judoon prisoner transport. On board was an intergalactic murderer named Androvax -- a Veil, capable of inhabiting the bodies of others. Sarah Jane forges an uneasy alliance with Judoon Captain Tybo in an effort to recapture Androvax, but falls prey to the Veil herself. Now in possession of all of Sarah Jane's knowledge and weapons, Androvax sets his sights on Genetec Systems -- whose nanobot technology will help him escape Earth, or destroy it in trying.
Forthcoming.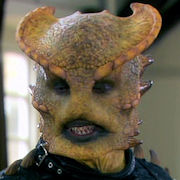 Original Transmission
Episode 1
Date
15th Oct 2009
Time
4.35pm
Duration
28'00"
Viewers

(more)

730k
Appreciation
81%
Episode 2
Date
16th Oct 2009
Time
4.35pm
Duration
28'16"
Viewers

(more)

820k
Appreciation
86%
---
Cast
Sarah Jane Smith
Elisabeth Sladen
Luke Smith
Tommy Knight
Mr Smith
Alexander Armstrong
Clyde Langer
Daniel Anthony
Rani Chandra
Anjli Mohindra
Gita Chandra
Mina Anwar
Haresh Chandra
Ace Bhatti
Madison Yorke
Terence Maynard
Security Man
Robert Curtis
Captain Tybo
Paul Kasey
Voice of Captain Tybo
Nicholas Briggs
Androvax
Mark Goldthorp
Julie
Scarlett Murphy
---
Crew
Written by
Phil Ford
Directed by
Joss Agnew
Produced by
Nikki Wilson
Created by
Russell T Davies
Co-Producer
Phil Ford
1st Assistant Director
Simon Morris
2nd Assistant Director
Sarah Davies
3rd Assistant Director
Will Cummins
Location Manager
Jonathan Allott
Production Co-Ordinator
Ceri Hughes
Continuity
Nicki Coles
Script Editor
Gary Russell
Camera Operator
Martin Stephens
Focus Pullers
Mani Blaxter Paliwala
Rob McGregor
Grip
John Robinson
Boom Operator
Kevin Staples
Gaffer
Dave Fowler
Set Decorator
Joelle Rumbelow
Standby Art Director
Dafydd Shurmer
Standby Props
Dewi Thomas
Graphics
BBC Wales Graphics
Costume Supervisor
Arabella Rhodes
Assistant Editor
Lee Bhogal
Post Production Supervisor
Nerys Davies
Post Production Co-ordinator
Marie Brown
Colourist
Jon Everett
Sound Editors
Matthew Cox
Howard Eaves
Dubbing Mixer
Mark Ferda
Title Music
Murray Gold
Music
Sam Watts
Dan Watts
Casting Directors
Andy Brierley
Andy Pryor CDG
Production Executive
Julie Scott
Production Accountant
Dyfed Thomas
Sound Recordist
Ray Parker
Costume Designer
Stewart Meachem
Make Up Designer
Emma Bailey
Visual Effects
Craig Higgins
Special Effects
Colin Gorry Effects
Prosthetics
Millennium FX
Editor
Will Oswald
Production Designer
Arwel Wyn Jones
Director of Photography
Mark Waters
Production Manager
Steffan Morris
Executive Producers for BBC Wales
Russell T Davies
Julie Gardner
Piers Wenger