The Sarah Jane Adventures Episodes 27 & 28:
The Mad Woman In The Attic
Rani is feeling alienated from Sarah Jane, Luke and Clyde. When her old friend Sam asks her to come back home to Danemouth to investigate a mystery, she's quick to accept. Stories of disappearances at a derelict amusement park lead Rani to an alien girl named Eve, who crashlanded on Earth and was hidden in the park by its caretaker, Harry. But Eve and her damaged vessel possess devastating powers that transcend time and space, and when Sarah Jane and her companions come looking for Rani, their actions may put their own futures at risk...
Forthcoming.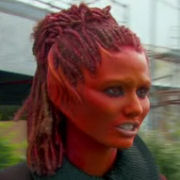 Original Transmission
Episode 1
Date
22nd Oct 2009
Time
4.35pm
Duration
27'44"
Viewers

(more)

735k
Appreciation
86%
Episode 2
Date
23rd Oct 2009
Time
4.35pm
Duration
27'15"
Viewers

(more)

840k
Appreciation
86%
---
Cast
Sarah Jane Smith
Elisabeth Sladen
Luke Smith
Tommy Knight
Mr Smith
Alexander Armstrong
Clyde Langer
Daniel Anthony
Rani Chandra
Anjli Mohindra
Old Rani
Souad Faress
Adam
Gregg Sulkin
Harry
Brian Miller
Sam
Toby Parkes
Eve
Eleanor Tomlinson
Ship
Kate Fleetwood
Voice of K-9
John Leeson
Shuresh
Jai Rajani
---
Crew
Written by
Joseph Lidster
Directed by
Alice Troughton
Produced by
Nikki Wilson
Created by
Russell T Davies
Co-Producer
Phil Ford
K-9 originally created by
Bob Baker &
Dave Martin
1st Assistant Director
Guy de Glanville
2nd Assistant Director
Sarah Davies
3rd Assistant Director
Will Cummins
Location Manager
Jonathan Allott
Production Co-Ordinator
Ceri Hughes
Continuity
Nicki Coles
Script Editor
Gary Russell
Camera Operator
Martin Stephens
Focus Pullers
Mani Blaxter Paliwala
Rob McGregor
Grip
John Robinson
Boom Operator
Kevin Staples
Gaffer
Dave Fowler
Set Decorator
Joelle Rumbelow
Standby Art Director
Ciaran Thompson
Standby Props
Dewi Thomas
Graphics
BBC Wales Graphics
Costume Supervisor
Arabella Rhodes
Assistant Editor
Lee Bhogal
Post Production Supervisor
Nerys Davies
Post Production Co-ordinator
Marie Brown
Colourist
Jon Everett
Sound Editors
Matthew Cox
Howard Eaves
Dubbing Mixer
Mark Ferda
Title Music
Murray Gold
Music
Sam Watts
Casting Directors
Andy Brierley
Andy Pryor CDG
Production Executive
Julie Scott
Production Accountant
Dyfed Thomas
Sound Recordist
Ray Parker
Costume Designer
Stewart Meachem
Make Up Designer
Emma Bailey
Visual Effects
Craig Higgins
Special Effects
Any Effects
Prosthetics
Millennium FX
Editor
Mike Hopkins
Production Designer
Arwel Wyn Jones
Director of Photography
Mark Waters
Production Manager
Steffan Morris
Executive Producers for BBC Wales
Russell T Davies
Julie Gardner
Piers Wenger