The Sarah Jane Adventures Episode 24:
From Raxacoricofallapatorius With Love
A man calling himself Ambassador Rahnius of the Galactic Alliance teleports into Sarah Jane's attic, much to the bewilderment of Sarah Jane, Luke, Clyde and Rani. The Ambassador claims to have been despatched to express the Alliance's thanks to Sarah Jane for all of her accomplishments. Soon, however, K·9 materialises in the attic as well, accusing the man of being a Slitheen in disguise. As events get weirder and weirder, it appears that the robot dog has fallen into a trap...
Since 1988, the BBC had been broadcasting the Red Nose Day telethon on behalf of the charity Comic Relief. Founded by comedian Lenny Henry and writer Richard Curtis, Comic Relief had originally been created to combat famine in Africa, and subsequently expanded its remit to assist many different communities of disadvantaged peoples. Red Nose Day had occurred biennially since 1989, with Doctor Who playing a major role on two occasions. Although the programme was no longer in production in 1999, future executive producer Steven Moffat wrote a four-part Doctor Who comedy serial entitled The Curse Of Fatal Death for that year's Red Nose Day. This (presumably) out-of-continuity satire featured incarnations of the Doctor played by luminaries Rowan Atkinson, Richard E Grant, Jim Broadbent, Hugh Grant and Joanna Lumley. Almost a decade later, the 2007 Red Nose Day featured a reunion of the stars of the 2006 Doctor Who Christmas special, The Runaway Bride. Here, Donna Noble actress Catherine Tate reprised her Lauren Cooper character from The Catherine Tate Show, opposite David Tennant as a suspiciously familiar substitute teacher.
For the 2009 edition, the Doctor Who team was again approached to participate in Red Nose Day, and this time it was decided that The Sarah Jane Adventures was the perfect vehicle for a lighthearted mini-episode which could be broadcast as part of the appeal. Gareth Roberts, who had contributed to six episodes of the programme during its first two years (most recently Secrets Of The Stars and The Temptation Of Sarah Jane Smith) was nominated to write the Children In Need script. He would be joined by Clayton Hickman, who spent five years as editor of Doctor Who Magazine and was also a graphic designer, including considerable work on the Doctor Who range of DVDs. Roberts and Hickman had previously collaborated on two comedy-tinged scripts for the range of Doctor Who audio dramas from Big Finish Productions: the Sixth Doctor tale The One Doctor in 2001 and Bang-Bang-A-Boom!, featuring the Seventh Doctor, in 2002.
The script was littered with references to a variety of Ronnie Corbett's best-known comedy routines
Around early 2009, Roberts and Hickman began working on a five-minute script, set entirely in Sarah Jane's attic, which would see the Bannerman Road gang face off against a Slitheen. The Slitheen would initially masquerade as an intergalactic ambassador -- originally called Mandus Globulous Robulus or "Mandy" -- who could be played by a well-known comedy star. On February 13th, it was announced that beloved comic Ronnie Corbett had taken the role; Corbett was best known for the long-running sketch show The Two Ronnies alongside Ronnie Barker. Roberts and Hickman duly amended the name of Corbett's character to Rahnius Globulous Robulus (and then just Rahnius), known as "Rahni", facilitating a "two Ranis" gag for Anjli Mohindra, who played Rani Chandra. Roberts and Hickman also littered their script with references to a variety of Corbett's best-known comedy routines, both from The Two Ronnies as well as other programmes such as The Frost Report.
Roberts and Hickman's script gained the title From Raxacoricofallapatorius With Love, a play on the James Bond novel and film From Russia With Love and the name of the Slitheen homeworld. Bearing in mind the Slitheen propensity for flatulence, the writers also suggested a punning take on the classic film Gone With The Wind: "Ron With The Wind". In the end, no title would be used on screen.
Assigned to direct the mini-episode was Joss Agnew, who had helmed both The Last Sontaran and The Mark Of The Berserker during the 2008 season of The Sarah Jane Adventures. Producer Nikki Smith -- now going by her married name, Nikki Wilson -- was joined in this capacity by Brian Minchin. Minchin had been a script editor on Belonging, Doctor Who and Torchwood. Recently, he had been promoted to assistant producer on Torchwood for its third season while also producing one episode of Belonging. From Raxacoricofallapatorius With Love was filmed on a single day, February 19th, on the standing attic set at Upper Boat Studios. Although it would be broadcast in standard definition, it was the first footage for The Sarah Jane Adventures recorded in high definition.
Doctor Who Magazine Special Edition #23, 24th December 2009, "Special: Comic Relief" by Andrew Pixley, Panini Publishing Ltd.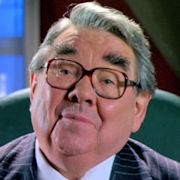 Original Transmission
Date
13th Mar 2009
Time
7.25pm
Duration
5'14"
Viewers

(more)

8.3m
---
Cast
Sarah Jane Smith
Elisabeth Sladen
Luke Smith
Tommy Knight
Mr Smith
Alexander Armstrong
Clyde Langer
Daniel Anthony
Rani Chandra
Anjli Mohindra
Ambassador Rahnius
Ronnie Corbett
Rahnius Slitheen
Jimmy Vee
Voice of K·9
John Leeson
---
Crew
Written by
Gareth Roberts
Clayton Hickman
Directed by
Joss Agnew
Produced by
Nikki Smith
Brian Minchin