The Sarah Jane Adventures Episodes 2 & 3:
Revenge Of The Slitheen
Maria and Luke begin their first day at their new school, where they quickly befriend charming troublemaker Clyde Langer. But not everything seems right at Park Vale Comprehensive: the food in the cafetaria has gone off, there's a mysterious new technology wing, and some of the teachers have developed a peculiar problem with flatulence. With Sarah Jane's help, the three kids discover that schools all over the world have been infiltrated by the Slitheen, who intend to wreak their vengeance on the entire planet.
Forthcoming.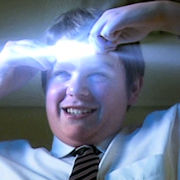 Original Transmission
Episode 1
Date
24th Sep 2007
Time
5.00pm
Duration
27'07"
Viewers

(more)

1.4m
Appreciation
79%
Episode 2
Date
24th Sep 2007
Time
5.31pm
Duration
27'26"
· CBBC
446k
· BBC1
1.1m
Appreciation
77%
---
Cast
Sarah Jane Smith
Elisabeth Sladen
Maria Jackson
Yasmin Paige
Luke
Tommy Knight
Alan Jackson
Joseph Millson
Chrissie Jackson
Juliet Cowan
Mr Smith
Alexander Armstrong
Clyde
Daniel Anthony
Blakeman
Martyn Ellis
Jeffrey
Ian Midlane
Wendy
Pamela Merrick
Janine
Imogen Bain
Carl
Anton Thompson McCormick
Carl Slitheen
Jimmy Vee
Jeffrey / Blakeman / Janine Slitheen
Paul Kasey
American Newsreader
Lachele Carl
---
Crew
Written by
Gareth Roberts
Directed by
Alice Troughton
Produced by
Matthew Bouch
Created by
Russell T Davies
1st Assistant Director
Gareth Williams
2nd Assistant Director
Anna Evans
3rd Assistant Director
Sarah Davies
Location Manager
Jonathan Allott
Production Co-ordinator
Phillipa Cole
Continuity
Nicki Coles
Script Editor
Lindsey Alford
Focus Puller
Steve Rees
Grip
Clive Baldwin
Boom Operator
Bradley Kendrick
Gaffer
Mark Hutchings
Stunt Co-ordinator
Abbi Collins
Chief Supervising Art Director
Stephen Nicholas
Art Dept Production Manager
Jonathan Marquand Allison
Supervising Art Director
Matt North
Standby Art Director
Alexandra Merchant
Standby Props
Phill Shellard
Graphics
BBC Wales Graphics
Costume Supervisor
Arabella Rhodes
Casting Associate
Andy Brierley
Assistant Editor
Tim Hodges
Post Production Supervisor
Nerys Davies
Post Production Co-ordinator
Marie Brown
Colourist
Jon Everett
Sound Editor
Mike Feinberg
Dubbing Mixer
Mark Ferda
Title Music
Murray Gold
Music
Sam Watts
Casting Director
Andy Pryor CDG
Production Executive
Julie Scott
Production Accountant
Dyfed Thomas
Sound Recordist
Brian Milliken
Costume Designer
Stewart Meachem
Make Up Designer
Emma Bailey
Visual Effects
The Mill
Special Effects
Any Effects
Prosthetics
Millennium FX
Editor
William Webb
Production Designers
Tim Dickel
Edward Thomas
Director of Photography
Rory Taylor
Production Manager
Debbi Slater
Executive Producers for BBC Wales
Phil Collinson
Russell T Davies
Julie Gardner