The Sarah Jane Adventures Episodes 14 & 15:
The Day Of The Clown
The Chandra family moves into the Jacksons' house on Bannerman Road. Sarah Jane is adamant that their daughter, Rani, not become caught up in her adventures, but Rani is already being haunted by a malevolent clown. Clyde becomes convinced that the clown is connected to a spate of disappearances from their school, and with Rani's help they follow the lead to a circus museum. Confronted by the museum's eerie proprietor, Sarah discovers that the kidnapper is none other than the Pied Piper of old.
Forthcoming.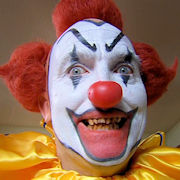 Original Transmission
Episode 1
Date
6th Oct 2008
Time
5.16pm
Duration
27'55"
· CBBC
514k
· BBC1
600k
Appreciation
82%
Episode 2
Date
13th Oct 2008
Time
5.17pm
Duration
28'24"
· CBBC
443k
· BBC1
760k
Appreciation
81%
---
Cast
Sarah Jane Smith
Elisabeth Sladen
Voice of Maria Jackson
Yasmin Paige
Luke Smith
Tommy Knight
Voice of Mr Smith
Alexander Armstrong
Clyde Langer
Daniel Anthony
Dave Finn
Jem Brownlee
Tony Warner
Aaron Shosanya
Odd Bob / Elijah Spellman / The Pied Piper
Bradley Walsh
Rani Chandra
Anjli Mohindra
Mr Cunningham
Huw Higginson
Steve Wallace
Elijah Baker
Haresh Chandra
Ace Bhatti
Gita Chandra
Mina Anwar
Clowns
Alan Ruscoe
Sean Palmer
Professor Rivers
Floella Benjamin
Young Sarah Jane
Jessica Mogridge
---
Crew
Written by
Phil Ford
Directed by
Michael Kerrigan
Produced by
Nikki Smith
Created by
Russell T Davies
Co-producer
Phil Ford
1st Assistant Director
Steffan Morris
2nd Assistant Director
Anna Evans
3rd Assistant Director
Sarah Davies
Location Manager
Jonathan Allott
Production Co-ordinator
Phillipa Cole
Continuity
Frances Mable
Script Editor
Gary Russell
Focus Puller
Steve Rees
Grip
Clive Baldwin
Boom Operator
Jeff Welch
Gaffer
Steve Slocombe
Stunt Co-ordinator
Abbi Collins
Supervising Art Director
James North
Standby Art Director
Ellen Woods
Standby Props
Nick Murray
Graphics
BBC Wales Graphics
Costume Supervisor
Arabella Rhodes
Assistant Editor
Matt Mullins
Post Production Supervisor
Nerys Davies
Post Production Co-ordinator
Marie Brown
Colourist
Jon Everett
Sound Editing
Bang Post Production
Dubbing Mixer
Mark Ferda
Title Music
Murray Gold
Music
Sam Watts
Casting Directors
Andy Pryor CDG
Andy Brierley
Production Executive
Julie Scott
Production Accountant
Dyfed Thomas
Sound Recordist
Jeff Matthews
Costume Designer
Stewart Meachem
Make Up Designer
Emma Bailey
Visual Effects
Craig Higgins
Special Effects
Any Effects
Prosthetics
Millennium FX
Editor
Mike Hopkins
Production Designer
Arwel Wyn Jones
Director of Photography
Rory Taylor
Associate Producer
Debbi Slater
Series Producer
Matthew Bouch
Executive Producers for BBC Wales
Russell T Davies
Julie Gardner