New Series Episode 104:
Journey To The Centre Of The TARDIS
Aware that Clara is uncomfortable around the TARDIS, the Doctor sets the Ship into a low-power mode to help Clara get accustomed to her new home. However, this inadvertently leaves the TARDIS vulnerable to an intergalactic salvage vessel, whose attempts to seize the time machine critically damage the interior. With time and space running amok inside the TARDIS, the Doctor is forced into an uneasy alliance with the salvage team in order to rescue Clara, and keep the vessel's engine from exploding.
Forthcoming.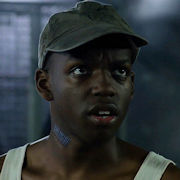 Original Transmission

| | |
| --- | --- |
| | |
| Date | 27th Apr 2013 |
| Time | 6.30pm |
| Duration | 44'44" |
| · BBC1/HD | 6.5m |
| Appreciation | 85% |
---
Cast
The Doctor
Matt Smith
Clara
Jenna-Louise Coleman
Gregor van Baalen
Ashley Walters
Bram van Baalen
Mark Oliver
Tricky
Jahvel Hall
Time Zombie
Sarah Louise Madison
Ruari Mears
Paul Kasey
---
Crew
Written by
Stephen Thompson
Directed by
Mat King
Produced by
Marcus Wilson
Stunt Coordinators
Crispin Layfield
Gordon Seed
Stunt Performers
André Layne
Lewis Young
First Assistant Director
Jonathan Farmer
Second Assistant Director
Heddi-Joy Taylor-Welch
Third Assistant Director
Delmi Thomas
Assistant Directors
Danielle Richards
Gareth Jones
Location Manager
Nicky James
Unit Manager
Monty Till
Location Assistant
Iestyn Hampson-Jones
Production Manager
Phillipa Cole
Production Coordinator
Claire Hildred
Assistant Coordinator
Gabriella Ricci
Production Secretary
Sandra Cosfeld
Production Assistants
Rachel Vipond
Samantha Price
Assistant Accountant
Rhys Evans
Assistant Script Editor
John Phillips
Script Supervisor
Rory Herbert
Camera Operator
Joe Russell
Focus Pullers
James Scott
Chris Walmsley
Grip
Gary Norman
Camera Assistants
Meg de Koning
Sam Smithard
Evelina Norgren
Assistant Grip
Owen Charnley
Sound Maintenance Engineers
Ross Adams
Chris Goding
Gaffer
Mark Hutchings
Best Boy
Stephen Slocombe
Electricians
Bob Milton
Nick Powell
Gafin Riley
Gareth Sheldon
Supervising Art Director
Paul Spriggs
Set Decorator
Adrian Anscombe
Production Buyers
Adrian Greenwood
Holly Thurman
Art Director
Amy Pickwoad
Stand By Art Director
Nandie Narishkin
Assistant Art Director
Richard Hardy
Art Department Coordinator
Donna Shakesheff
Prop Master
Paul Smith
Prop Chargehand
Ian Griffin
Set Dresser
Jayne Davies
Prophands
Austin J Curtis
Jamie Farrell
Jamie Southcott
Standby Props
Helen Atherton
Rob Brandon
Dressing Props
Mike Elkins
Paul Barnett
Graphic Designer
Chris Lees
Graphic Artist
Christina Tom
Storyboard Artist
Andrew Wildman
Petty Cash Buyer
Florence Tasker
Standby Carpenter
Will Pope
Standby Rigger
Bryan Griffiths
Practical Electrician
Christian Davies
Props Makers
Penny Howarth
Alan Hardy
Jamie Thomas
Props Driver
Gareth Fox
Construction Manager
Terry Horle
Construction Chargehand
Dean Tucker
Scenic Artist
John Pinkerton
Assistant Costume Designer
Fraser Purfit
Costume Supervisor
Carly Griffith
Costume Assistants
Katarina Cappellazzi
Gemma Evans
Make-Up Artists
Katie Lee
Vivienne Simpson
Casting Associate
Alice Purser
Assistant Editor
Becky Trotman
VFX Editor
Joel Skinner
Dubbing Mixer
Tim Ricketts
ADR Editor
Matthew Cox
Dialogue Editor
Darran Clement
Sound Effects Editor
Paul Jefferies
Foley Editor
Jamie Talbutt
Graphics
Peter Anderson Studio
Additional Visual Effects
BBC Wales Visual Effects
Online Editor
Geraint Pari Huws
Colourist
Mick Vincent
Original Theme Music
Ron Grainer
Casting Director
Andy Pryor CDG
Production Executive
Julie Scott
Post Production Supervisor
Nerys Davies
Production Accountant
Jeff Dunn
Sound Recordist
Deian Llŷr Humphreys
Costume Designer
Howard Burden
Make-Up Designer
Barbara Southcott
Music
Murray Gold
Visual Effects
The Mill
Special Effects
Real SFX
Prosthetics
Millennium FX
Editor
Selina MacArthur
Production Designer
Michael Pickwoad
Director Of Photography
Jake Polonsky
Script Producer
Denise Paul
Line Producer
Des Hughes
Executive Producers
Steven Moffat
Caroline Skinner