Doctor Who
An Adventure In Space And Time
The year is 1963, and BBC Head of Drama Sydney Newman has brought together a small group of people to launch the programme that will become Doctor Who. Verity Lambert is a neophyte producer who finds herself clashing with the old boys' club at the BBC. Waris Hussein is a British-Indian director struggling against racism both overt and implicit. The programme's star, William Hartnell, is a veteran actor who comes to see Doctor Who as his opportunity to shatter years of typecasting, but is fighting his own battle with his deteriorating health. Against all odds, they will help forge a legacy worthy of eternity.
By 2012, Mark Gatiss was a prominent player in British television. After first earning notices as a member of the League of Gentlemen comedy troupe, Gatiss had begun both acting and writing for television. He appeared in shows such as the 2005 version of The Quatermass Experiment, Nighty Night and Jekyll, while contributing scripts to Randall & Hopkirk (Deceased) and Agatha Christie's Poirot. In 2008, he produced Crooked House, and in 2010 he became an executive producer on both Sherlock and the telefilm The First Men In The Moon; Gatiss also acted and wrote for all of these programmes.
Gatiss was a lifelong fan of Doctor Who. His first published book was Nightshade (1992) for Virgin Publishing's Doctor Who: The New Adventures range, and he went on to produce many novels for Virgin and BBC Books, as well as audio plays for Big Finish Productions. With David Walliams, he created several comedy sketches for a Doctor Who Night broadcast on BBC2 in 1999. Then, when Doctor Who returned to television in 2005, Gatiss was one of the initial group of scriptwriters; The Unquiet Dead became the first of his near-annual contributions to the series. Gatiss also made two on-screen appearances in the programme, as Professor Lazarus in 2007's The Lazarus Experiment, and then under heavy make-up as Gantok in 2011's The Wedding Of River Song.
Mark Gatiss felt that the human story of the cast and crew who created early Doctor Who was compelling
Early in his television career, Gatiss became interested in developing a TV movie which would chronicle the early days of Doctor Who. These had been well-documented in Doctor Who Magazine articles by researchers such as Marcus Hearn and Andrew Pixley, as well as books such as Doctor Who: The Sixties and Doctor Who: The Handbook: The First Doctor by David J Howe, Mark Stammers and Stephen James Walker. However, Gatiss felt that the human story of the cast and crew who created early Doctor Who was equally compelling -- thinking particularly of the tragic developments which saw ill health force original star William Hartnell to relinquish the role which had reinvigorated his acting career.
Gatiss originally hoped that such a film could be made in time to celebrate the fortieth anniversary of Doctor Who in 2003. However, at this point the programme had been largely off the air since 1989, and the BBC saw little potential in Gatiss' idea. Over the next few years, Doctor Who enjoyed a massive popular renaissance, and Gatiss revived the idea as a way to help bridge the transition from Tenth Doctor David Tennant to Eleventh Doctor Matt Smith in 2010. Ultimately, however, it was agreed that Gatiss' project was most appropriate as part of the celebration of fifty years of Doctor Who in 2013. In early 2012, An Adventure In Space And Time was commissioned by BBC2 Controller Janice Hadlow and BBC Controller of Drama Commissioning Ben Stephenson. The docudrama's title was inspired by the description of Doctor Who coined by the Radio Times during the Sixties.
Gatiss quickly identified David Bradley as the man he wanted to play William Hartnell. Bradley had begun appearing in musicals in his youth, and eventually left a career making optical instruments to take up acting full-time. In 1991, he won a Laurence Olivier Award for his performance as the Fool in King Lear. More recently, Bradley found himself increasingly in demand for parts both in movies and on television. His films included Hot Fuzz, Captain America: The First Avenger and the Harry Potter series (where he played the caretaker, Argus Filch). On the small screen, his credits included Our Friends In The North, Blackpool and Game Of Thrones. He had recently played the villainous Solomon in the Doctor Who episode Dinosaurs On A Spaceship, and had previously voiced one of the alien Shansheeth in Death Of The Doctor for The Sarah Jane Adventures. Gatiss offered Bradley the lead role in An Adventure In Space And Time while they watched Queen Elizabeth's Diamond Jubilee River Pageant together on June 3rd. Bradley soon agreed.
Initially, the script included side stories such as Raymond Cusick's struggle to be recognised for his Dalek design
In the early stages of writing An Adventure In Space And Time, Gatiss struggled to narrow his focus to a degree which would balance the goals of informing and entertaining audiences, while also providing depth to his characters. Gatiss always knew that he wanted to confine himself to the three years that Hartnell had played the Doctor, but initially he tried to incorporate many of the side stories of those early days, such as Terry Nation's creation of the Daleks and Raymond P Cusick's struggle to obtain appropriate recognition for their design. Eventually, Gatiss decided to concentrate on four main characters: Hartnell, BBC Head of Drama Sydney Newman (who instigated the creation of Doctor Who), Verity Lambert (producer until late 1965), and Waris Hussein (director of ten of the first twenty episodes). This resulted in the conflation or omission of some of the individuals involved in Doctor Who's origins; for example, original story editor David Whitaker was present in Gatiss' initial drafts, but his role was eventually folded into the material accorded to associate producer Mervyn Pinfield.
Early drafts of An Adventure In Time And Space also bounced around in time. Flashbacks would have examined Hartnell's early life and included a glimpse of his mother Lucy, who gave birth to him out of wedlock. There would also have been flash-forwards to the present day, where Hartnell's granddaughter Judy -- now an adult -- explored the Old Mill Cottage where her grandparents had lived. (Judith, under her professional name Jessica Carney, had written a 1996 biography of her grandfather called Who's There?: The Life And Career Of William Hartnell which had helped inform the script.)
Gatiss considered playing up Hussein's role by depicting him as the director of all of Hartnell's early episodes, before eventually deciding to include one of his contemporaries, Richard Martin, as well. For a time, Gatiss intended to end An Adventure In Space And Time with footage recreating the photocall which brought Hartnell and his successors -- Patrick Troughton and Jon Pertwee -- together. This reunion had served to promote Doctor Who's tenth anniversary story, The Three Doctors, which also proved to be Hartnell's final performance before his death in 1975. However, it became clear that the telefilm's budget would not facilitate the dramatisation of this event.
A newly-recovered interview offered a rare glimpse of William Hartnell being himself
In addition to the printed works and interviews he conducted with many of Hartnell's contemporaries, Gatiss drew heavily upon an interview with the actor which had been conducted for the news programme Points West in January 1967, just a few months after his departure from Doctor Who. Recovered in 2009 by researcher Richard Bignell, this offered a rare glimpse of Hartnell being himself, rather than being in character. Gatiss briefly considered making this interview the framing device for An Adventure In Space And Time, before returning to his original notion of Hartnell looking back from the perspective of his last day on Doctor Who. Bradley also found this clip invaluable for finding his way into Hartnell's character.
One element that Gatiss was eager to include in his script was the recreation of scenes from Hartnell-era Doctor Who adventures. Not only would this add a splash of colour to the docudrama, but it would also afford the opportunity to dramatise moments which no longer existed in the BBC archives. For example, one ultimately unused idea was to restage the death of companion Sara Kingdom, played by Jean Marsh, who aged to death in the closing moments of The Daleks' Master Plan. In 1965, this effect was accomplished by replacing Marsh with an older actress. It occurred to Gatiss that Marsh could now play the aged Sara, with another performer standing in as her younger self. Unfortunately, this was another instance where budgetary limitations forced Gatiss to scale back his ambitions.
Joining Gatiss as executive producers of An Adventure In Space And Time were his Doctor Who counterparts, Steven Moffat and Caroline Skinner; Gatiss and Moffat also collaborated as showrunners on Sherlock. Appointed as producer was Matt Strevens. Originally a story editor on EastEnders and then The Bill, Strevens had been promoted to producer on the latter, before moving on to Raw, Skins and Misfits.
The director would be Terry McDonough. McDonough had gotten his start in British television, first as a camera operator and then as a director on programmes such as Peak Practice and The Royal. He had then moved to Hollywood, helming episodes of Breaking Bad and Homefront, before his childhood love of early Doctor Who lured him back to the UK for An Adventure In Space And Time.
Jessica Raine had recently recorded an appearance in the Doctor Who episode Hide
Sharing top billing with Bradley was Jessica Raine as Verity Lambert. Raine had always dreamt of being an actress, but her applications to drama school were all rejected. She persevered, however, and after a year teaching English in Thailand, she was accepted to the Royal Academy of Dramatic Art. She soon earned roles on the big screen in the 2010 version of Robin Hood and the thriller The Woman In Black, before rising to prominence on television as the star of the historical drama Call The Midwife. Raine had also recorded an appearance in the Doctor Who episode Hide, which would be broadcast in 2013.
The role of Sydney Newman went to veteran actor Brian Cox, whose career in television stretched back to the days when Newman was still Head of Drama for the BBC. Amongst his many TV credits were the Theatre 625 installment The Year Of The Sex Olympics, Z Cars, Doomwatch, Hammer House Of Horror, Red Dwarf and Deadwood. His film roles included the American version of The Ring, Adaptation., X2 (the second X-Men movie) and Rise Of The Planet Of The Apes; he had also originated the role of serial killer Hannibal Lecter in Manhunter. Cox had a prior Doctor Who connection, having provided the voice of the Elder Ood for The End Of Time in 2009.
Playing Waris Hussein would be Sacha Dhawan. An actor since his youth, Dhawan had been part of the original cast of the play The History Boys, and reprised his role for the subsequent film. On television, he had appeared in shows such as Being Human, Last Tango In Halifax, and the American sitcom Outsourced. Meanwhile, the role of Hussein's fellow Doctor Who director, Richard Martin, went to Ian Hallard, who was Gatiss' civil partner. Martin would be seen directing the Daleks -- whose original voice artiste, Peter Hawkins, would be played by his modern-day counterpart, Nicholas Briggs. Also in the cast was Mark Eden as BBC Controller Donald Baverstock; Eden had played the title role in the 1964 Doctor Who serial Marco Polo, which would be represented in An Adventure In Space And Time.
A major location for the telefilm was BBC Television Centre itself. The production team had originally assumed that these premises would have to be replicated elsewhere, but because the Corporation was in the process of relocating, the building was now largely abandoned. As such, the team working on An Adventure In Space And Time had a great deal of freedom to redress TV Centre to echo the way it had looked in the Sixties. Production began there on February 3rd, with the opportunity also taken to record scenes set in the BBC Club and the corridors of Maida Vale (where the BBC Radiophonic Workshop was headquartered) and Riverside Studios.
Because BBC TV Centre was now largely abandoned, the production team could redress it to echo the 1960s
On February 4th, Wimbledon Common stood in for Barnes Common -- a location suggested by the novelisation of The Daleks, which relocated the Doctor's introduction to Ian and Barbara there. The policeman, Reg, was named in honour of Reg Cranfield, who played the policeman seen walking along Totter's Lane in the opening moments of 100,000 BC, the very first Doctor Who story. Work on the 5th took McDonough's team to Wilton Way (for the party in Verity's flat) and then Elwin Street, where original series star Carole Ann Ford made a cameo appearance as a mother calling her children home to watch Doctor Who. The family watching television was also recorded in an Elwin Street residence.
The only filming outside London took place on February 6th and 7th, at a private cottage in Chipstead, Surrey which posed as the Hartnells' Old Mill Cottage. On the 8th, the Rivoli Ballroom was used for scenes in the Chinese restaurant, as well as the dressing rooms. Then it was back to Television Centre from February 11th to 15th, with particular emphasis on material in Verity's and Sydney's offices. Also shot on the 15th was the series of photocalls introducing the various iterations of the Hartnell-era TARDIS team. In addition to Claudia Grant as Carole Ann Ford (Susan), Jamie Glover as William Russell (Ian Chesterton) and Jemma Powell as Jacqueline Hill (Barbara Wright), this footage featured Anna-Lisa Drew as Maureen O'Brien (Vicki), Edmund Short as Peter Purves (Steven Taylor), Sophie Holt as Jackie Lane (Dodo Chaplet), Ellie Spicer as Anneke Wills (Polly), and Robin Varley as Michael Craze (Ben Jackson). February 17th began with a recreation of the Daleks' iconic crossing of Westminster Bridge from their second appearance, 1964's The Dalek Invasion Of Earth. The rest of the day was spent back at BBC Television Centre for sequences in the reception area and the scene dock -- as well as Sydney Newman's arrival at TV Centre, during which William Russell made an appearance as a security guard.
Then it was off to Wimbledon Studios, which would be the studio home for An Adventure In Space And Time. Ironically, most of the material recorded there involved dramatising the filming of scenes at Lime Grove and Riverside, Doctor Who's own studio homes during the Hartnell era. February 18th and 19th dealt with elements from 100,000 BC, including an elaborate replica of the original TARDIS console room. Action in the studio gallery was a focus on the 20th and 21st, although both days also captured more of 100,000 BC, together with The Daleks on the 20th and The Dalek Invasion Of Earth on the 21st. Additional moments from The Daleks were reprised on February 22nd, together with footage in the Television Centre news studio. After the weekend, February 25th saw McDonough's team revisiting parts of Inside The Spaceship, The Reign Of Terror and The Tenth Planet, followed the next day by The Dalek Invasion Of Earth and The Massacre Of St Bartholomew's Eve. The Web Planet was reenacted on the 27th, together with sequences taking place on the outskirts of the studio.
Mark Gatiss had first suggested that Reece Shearsmith should play Patrick Troughton more than a decade earlier
On February 28th, Verity Lambert said goodbye to her star on the TARDIS set, and her farewell party was recorded. This scene provided an opportunity to include a number of additional cameos, including Jean Marsh, Anneke Wills, story editor Donald Tosh, director Michael Ferguson, vision mixer Clive Doig, and Mervyn Pinfield's son Mike. Work then continued with the regeneration scene from The Tenth Planet. Here, Gatiss' League of Gentlemen colleague Reece Shearsmith played Patrick Troughton -- a role Gatiss had first suggested to him when he was originally mulling the project more than a decade earlier. Although the ending featuring The Three Doctors had been dropped, Gatiss himself dressed up as Jon Pertwee on this day and he, Shearsmith and Bradley recreated the iconic Radio Times cover photo of the first three Doctors.
March 1st clued up various odds and ends, including the sequence in the BBC Radiophonic Workshop, David Bradley's side of the effects shot in which William Hartnell sees a vision of Matt Smith, and the footage of Lee Harvey Oswald. Cast and crew also boarded a Routemaster bus for Verity Lambert seeing the children playing-acting as Daleks. With principal photography concluded, an establishing shot to represent the celebrated producer's flat was captured at Chesil Court on March 6th. Lastly, Matt Smith's contribution to the project was filmed at BBC Roath Lock on March 25th.
An Adventure In Space And Time was one of the highlights of the festivities surrounding Doctor Who's fiftieth birthday, airing on November 21st -- just two days before the anniversary special itself, The Day Of The Doctor. Immediately after the broadcast concluded, BBC2 followed it with a five-minute tribute to the man behind the First Doctor entitled William Hartnell: The Original, directed by Ian Smith. BBC4 then screened the entirety of 100,000 BC. A final treat from the production of An Adventure In Space And Time was unveiled the following month, when the BBC released one last recreation of a classic Doctor Who scene. At the end of the seventh episode of The Daleks' Master Plan -- broadcast on December 25th, 1965 -- William Hartnell had raised a glass and wished "a Merry Christmas to all of you at home." This episode was now lost, but thanks to Mark Gatiss and David Bradley, Hartnell's heartfelt toast to his beloved fans could be enjoyed once more.
Doctor Who Magazine Special Edition #38, Autumn 2014, "An Adventure In Space And Time" by Andrew Pixley, Panini UK Ltd.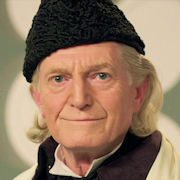 Original Transmission
Date
21st Nov 2013
Time
9.02pm
Duration
82'57"
Viewers

(more)

2.7m
· BBC2/HD
2.7m
Appreciation
88%
---
Cast
William Hartnell
David Bradley
Verity Lambert
Jessica Raine
Waris Hussein
Sacha Dhawan
Heather Hartnell
Lesley Manville
Sydney Newman
Brian Cox
Reg
Ross Gurney-Randall
Len
Roger May
Douglas Camfield
Sam Hoare
Arthur
Charlie Kemp
Harry - Security Guard
William Russell
Mervyn Pinfield
Jeff Rawle
Rex Tucker
Andrew Woodall
Jacqueline Hill
Jemma Powell
Judith Carney
Cara Jenkins
Cyril
Toby Hadoke
Delia Derbyshire
Sarah Winter
William Russell
Jamie Glover
Carole Ann Ford
Claudia Grant
Peter Brachacki
David Annen
Donald Baverstock
Mark Eden
Richard Martin
Ian Hallard
Peter Hawkins
Nicholas Briggs
Joyce
Carole Ann Ford
Alan
Reece Pockney
Patrick Troughton
Reece Shearsmith
---
Crew
Written by
Mark Gatiss
Directed by
Terry McDonough
Produced by
Matt Strevens
1st Assistant Director
Simon Maloney
2nd Assistant Director
Tom Alibone
3rd Assistant Director
Matt Jennings
Floor Runners
James Metcalf
Calum Carpenter
Jennifer Golding
Production Accountant
David Robbins
Assistant Production Accountant
Simon Wheeler
Production Co ordinator
Pippa Suren
Production Secretary
Catriona Scott
Script Supervisor
Sam Donovan
Production Runner
Jack Thomas-O'Brien
Art Director
Lucienne Suren
Standby Art Director
Kate Purdy
Graphic Designer
Julian Nix
Art Department Assistant
Oliver Benson
Prop Buyer
Stuart Bryce
Assistant Prop Buyer
Colleen MacLeod
Construction Managers
Dan Crandon
Brian Quin
Camera Operators
Iain Adrian
Daniel Bishop
Focus Puller
Peter "Skip" Howard
Clapper Loader
Phoebe Arnstein
Felix Pickles
Camera Trainee
Louise McMenemy
Camera Grip
Marc Tempest
Assistant Camera Grip
Daniel Rees
Casting Associate
Alice Purser
Costume Supervisor
Becky Brown
Costume Standby
Sue Gurley
Costume Assistant
Emily Thompson
Costume Trainee
Maudie Whitehead
Costume Construction
Chloe Marsden
Gaffer
Ian Barwick
Rigging Gaffer
Tony Allen
Best Boy
Mathew Buchan
Electricians
Bruno Martins
Dave Marriott
Steve Blythe
Mark Packman
Eamonn Fitzgerald
Generator Operators
Ricky Davis
Dan Smith
Make-up Artists
Sharon Colley
Claire Burgess
Sophie Roberts
Laura Morse
Unit Managers
Emma Collinson
Tobin Hughs
Prop Master
Robert Judd
Prop Chargehand
Dave Simons
Standby Prop Hand
Barney Ward
Matt French
Dressing Prop
Tony Bandy
Pete Fentem
Scott Rogers
Prop Maker
Paul McNamara
Boom Op
Sarah Howe
In Vision Fisher Boom Op
Howard Peryer
Sound Assistant
Pablo Lopez Jordan
Standby Carpenter
Paul Oakman
Unit Medic
Nick Martin
Drama Publicist BBC
Jenni Pain
Post Production Supervisors
Liz Pearson
Claire McGrane
Assistant Editors
Adam Harvey
Matt Bate
Colourist
Asa Shoul
Online Editor
Des Murray
Dubbing Mixer
Nigel Squibbs
Sound Designer
Tony Gibson
Dialogue Editor
Roger Dobson
Visual Effects
Chris Panton
Technical Advisors
Dicky Howett
Paul Marshall
Mark Jordan
Clive Sapsford
Conductor
Geoff Alexander
Music Engineer
Toby Wood
Unit Drivers
Alan Tribe
Tom O'Shea
Terry Collins
Liam Fellows
Casting Director
Andy Pryor CDG
Production Executives
Llyr Morus
Julie Scott
Script Editors
Lindsey Alford
Richard Cookson
Location Manager
Nick Wade
Sound Recordist
Simon Clark
Costume Designer
Suzanne Cave
Make-up Designer
Vickie Lang
Composer
Edmund Butt
Editor
Philip Kloss
Production Designer
Dave Arrowsmith
Director of Photography
John Pardue
Line Producer
Matthew Patnick
Executive Producers
Mark Gatiss
Steven Moffat
Caroline Skinner