The Sarah Jane Adventures Episodes 29 & 30:
The Wedding Of Sarah Jane Smith
Sarah Jane has a surprise for Luke: she's been secretly dating a man named Peter Dalton, and has accepted his proposal of marriage. Luke is delighted to see his mother so happy, but Clyde and Rani are suspicious -- especially when it turns out that nobody has lived in Peter's house for several weeks. They're unable to convince the others that anything is amiss, however, and the day of the wedding quickly arrives. But Peter does indeed harbour a dark secret: he is a pawn of the Trickster, and this time not even the Doctor may be in time to save Sarah Jane.
Forthcoming.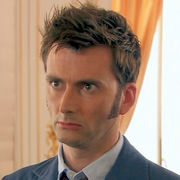 Original Transmission
Episode 1
Date
29th Oct 2009
Time
4.35pm
Duration
27'49"
Viewers

(more)

1.6m
Appreciation
87%
Episode 2
Date
30th Oct 2009
Time
4.35pm
Duration
28'17"
Viewers

(more)

1.5m
Appreciation
89%
---
Cast
Sarah Jane Smith
Elisabeth Sladen
Luke Smith
Tommy Knight
Mr Smith
Alexander Armstrong
Clyde Langer
Daniel Anthony
Rani Chandra
Anjli Mohindra
Gita
Mina Anwar
Haresh
Ace Bhatti
Voice of K-9
John Leeson
The Doctor
David Tennant
Peter Dalton
Nigel Havers
Trickster
Paul Marc Davis
Registrar
Zienia Merton
---
Crew
Written by
Gareth Roberts
Directed by
Joss Agnew
Produced by
Nikki Wilson
Created by
Russell T Davies
Co-Producer
Phil Ford
K-9 originally created by
Bob Baker &
Dave Martin
1st Assistant Director
Simon Morris
2nd Assistant Director
Sarah Davies
3rd Assistant Director
Will Cummins
Location Manager
Jonathan Allott
Production Co-Ordinator
Ceri Hughes
Continuity
Nicki Coles
Script Editor
Gary Russell
Camera Operator
Martin Stephens
Focus Pullers
Mani Blaxter Paliwala
Rob McGregor
Grip
John Robinson
Boom Operator
Kevin Staples
Gaffer
Dave Fowler
Stunt Co-ordinator
Abbi Collins
Set Decorator
Joelle Rumbelow
Standby Art Director
Dafydd Shurmer
Standby Props
Dewi Thomas
Graphics
BBC Wales Graphics
Costume Supervisor
Arabella Rhodes
Assistant Editor
Lee Bhogal
Post Production Supervisor
Nerys Davies
Post Production Co-ordinator
Marie Brown
Colourist
Jon Everett
Sound Editors
Matthew Cox
Howard Eaves
Dubbing Mixer
Mark Ferda
Title Music
Murray Gold
Music
Sam Watts
Dan Watts
Casting Directors
Andy Brierley
Andy Pryor CDG
Production Executive
Julie Scott
Production Accountant
Dyfed Thomas
Sound Recordist
Ray Parker
Costume Designer
Stewart Meachem
Make Up Designer
Emma Bailey
Visual Effects
Craig Higgins
Special Effects
Colin Gorry Effects
Prosthetics
Millennium FX
Editor
Ceres Doyle
Production Designer
Arwel Wyn Jones
Director of Photography
Mark Waters
Production Manager
Steffan Morris
Executive Producers for BBC Wales
Russell T Davies
Julie Gardner
Piers Wenger
---
Working Titles
Pantheon Of Discord