Serial KK:
The Faceless Ones
Arriving back in 1966 London at Gatwick Airport, the Doctor, Polly, Ben and Jamie soon learn of mysterious disappearances which have occurred with alarming frequency at the airport. To make matters worse, Ben and Polly also vanish, and a perfect duplicate of Polly appears claiming never to have met the Doctor or Jamie. The Doctor soon learns of the true force at work: the Chameleons, faceless aliens who are attempting to steal the identities of the kidnapped commuters and take over the Earth.
Malcolm Hulke's first contact with the Doctor Who production office came in 1963 during the programme's formative stages, when Hulke's "The Hidden Planet" was considered for a spot in the show's first season. Hulke had made his mark in television science-fiction with Target Luna (which starred a young Michael Craze), written with Eric Paice, and he and Terrance Dicks had contributed to The Avengers. Unfortunately, neither "The Hidden Planet" nor a later Hulke submission, "Britain 408 AD", were taken forward by the production office.
David Ellis had similarly little success with his efforts to write for Doctor Who. Having earned credits on series such as Z Cars, Ellis had two ideas -- "The Clock" and "The Ocean Liner" -- rejected in early 1966. At around the same time, he and Hulke met and decided to form a writing partnership. It was Ellis who thought that, together, they might take another stab at Doctor Who. After a false start with "The People Who Couldn't Remember", which was rejected on June 15th, Ellis and Hulke elected to try again.
Originally, the aliens had taken over a London department store as a front for their invasion of Earth
The result was "The Big Store", which involved aliens who had taken over a London department store and were using it as a front for their invasion of Earth. One group of aliens was a faceless breed, artificially given human features in order to replace people kidnapped in the store. Davis and producer Innes Lloyd were happy with "The Big Store", but thought it would work better transplanted onto an airport setting. Furthermore, Lloyd felt that the spate of four-part stories which characterised Season Four to date (only The Power Of The Daleks exceeded that length) was uneconomical, and asked the writers to extend their adventure to six episodes.
It was therefore agreed that "The Big Store" would be officially abandoned and Ellis and Hulke would start again on a new storyline, which became known as "The Chameleons". On January 2nd, 1967, Serial KK -- which was originally planned to be four parts long -- was expanded to six episodes and assigned to "The Chameleons". Ellis and Hulke received their commission the next day. On January 27th, Patrick Troughton was contracted for another twenty-three episodes, covering the period from "The Chameleons" to Serial NN and committing the actor to Doctor Who well into Season Five.
Meanwhile, Lloyd and Davis had decided that Ben and Polly were not working well as companions, and elected to write them out at the next possible opportunity. Because of the change in Serial KK's format, Anneke Wills and Michael Craze were now contracted until part two of The Evil Of The Daleks, the story to follow "The Chameleons". On February 8th, Ellis and Hulke were asked to write Ben and Polly out of their adventure's last four episodes, with the possible exception of a film sequence for part six, and to include in their scripts a young female character who might be suitable as a new companion. David Whitaker, writer of The Evil Of The Daleks, met with a similar request, giving Lloyd and Davis a choice of possible new regulars. Wills and Craze were notified that they would not be needed on the first two installments of Evil after all, although they would be paid for all their contracted episodes. On the same day, Frazer Hines' services were secured for both "The Chameleons" and The Evil Of The Daleks.
The result of all this was a number of changes to the structure of "The Chameleons". Ellis and Hulke already had a character -- Mary Dawson, introduced in episode two -- who could be showcased as a potential addition to the TARDIS crew. She was able to take over some of the action assigned to Ben and Polly, while Jamie's role was also expanded. In the original episode two, both the Doctor and Ben investigated the hangar but failed to find Polly, being menaced instead by a falling engine (rather than gas), and Ben and Mary then rescued Polly in episode three. Instead, both Ben and Polly now went missing after he finds her comatose body in the second installment.
The potential new companion was called Mary Dawson, then Cleo Briggs, and finally Samantha Briggs
As Ellis and Hulke rewrote their scripts, several other changes were introduced. Mary Dawson became Cleopatra "Cleo" Briggs, while Quinn was renamed Blade. Also, Pied Piper Tours was rechristened Chameleon Tours. A more significant change came in mid-February, when both London Airport -- at which "The Chameleons" was set -- and Gatwick Airport in Surrey agreed to permit Doctor Who to film on their premises. The decision was made to go with Gatwick, whose fees were lower. More changes through March and April saw Cleo renamed again, to Samantha Briggs, while Nurse O'Brien was renamed Nurse Pinto. Finally, the title of the serial was amended, to The Faceless Ones.
By this time, Lloyd had made it known that he intended to leave Doctor Who. He was never particularly enamored of science-fiction, and after a year on the programme was thirsty for new challenges. Davis was offered a promotion to producer, but instead informed his superiors that he, too, wanted to depart for pastures new. Peter Bryant had been assisting Davis since the end of 1966, and it was decided that he should be groomed to replace Lloyd. This process would begin with him serving as an associate producer beginning with The Faceless Ones and then taking over as story editor until the midpoint of Season Five, at which point he would be ready to assume the mantle of producer. Bryant had gotten his start in radio, where he had been a writer, director, story editor, producer and announcer, eventually becoming Head of the Drama Script Unit. He had also made some forays into television, most notably as an actor on the soap opera The Groves.
The director assigned to The Faceless Ones was Gerry Mill. Mill was new to the director's chair, but had worked on Doctor Who a year earlier as a production assistant on The Massacre Of St Bartholomew's Eve. The Faceless Ones would be the only Doctor Who story of which Mill would take charge. In the role of Samantha Briggs, Mill cast Pauline Collins. Lloyd asked Collins if she was interested in becoming a regular on Doctor Who but the actress declined, stifling any consideration of Samantha as a new companion.
Filming at Gatwick began on March 10th and continued, after a break for the weekend, on the 13th, 14th and 17th. In between, production moved to the Ealing Television Film Studios, where model filming took place on the 15th and 16th. It was at this time that problems with Shawcraft, the outside contractors who had handled much of Doctor Who's prop demands since the series debuted in 1963, came to a head. Discontent with Shawcraft's work had been brewing in the production office for several weeks, and was exacerbated by the delivery of the huge, costly and almost immobile Macra prop for The Macra Terror at the start of March.
Several hours were lost due to problems with the prop for the Chameleon satellite
For The Faceless Ones, Shawcraft built the Chameleons' plane and satellite. Unfortunately, the door to the satellite did not work properly, and the bulb on its base blew, with no replacement on hand. Most severely, Shawcraft had not considered how the satellite should be mounted, and when they finally suggested hanging it from a wire, the wire was unable to support the weight of the model, breaking and dropping it to the floor. Shawcraft was able to repair the prop overnight, but several hours had been lost as a result of all the problems. As a consequence, The Faceless Ones would be the last Doctor Who story in which Shawcraft would be involved, with the production office turning to the BBC's Visual Effects department instead. A remount of some of the model shots took place on April 11th at Ealing, using an improved satellite prop.
As usual, The Faceless Ones was taped on consecutive Saturdays in Lime Grove Studio D. In a break with tradition, however, Mill decided tape scenes out of script order on several of the episodes. Part one went before the cameras on April 1st. The following week, Wills and Craze attended their final recording session; although Ben and Polly would reappear in episode six, this material had been filmed on location at Gatwick. This day also saw the debut of a new version of the Doctor Who theme music, once again arranged by Delia Derbyshire. This was designed to better suit the new title sequence which had been introduced with The Macra Terror.
Fortunately, Ellis and Hulke had intentionally designed their scripts so that, in cases where both a human and his or her Chameleon duplicate were required to appear in the same episode, one would appear only in studio scenes while the other would feature exclusively in location filming. The only exception to this was the discovery of Nurse Pinto and her duplicate together in episode five, taped on April 29th. In this case, a combination of photographic stills, careful camera placement, a recording break and an extra in make-up accomplished the effect. Also on this day, Hines had a rare opportunity to use his regular accent, when he dropped his Scottish brogue for his appearances as the Chameleon version of Jamie. Recording on The Faceless Ones concluded on May 6th.
The Faceless Ones was Ellis' only Doctor Who story, although he would go on to write for programmes such as Z Cars and Dixon Of Dock Green. David Ellis died in 1978. Hulke, on the other hand, would continue his association with the Doctor Who into the Seventies.
Anneke Wills recorded appearances as the mother of audio Doctor Who companion Charley Pollard
After leaving Doctor Who, Anneke Wills went on to star in the crime drama Strange Report. In the Seventies, she left acting to travel the world, in the process taking up residence in India, Belgium, the United States and Canada over the next quarter-century before finally returning to the UK. Wills now concentrates her talents on art and interior decorating. Nonetheless, she has appeared in several Doctor Who-related videos, such as Bidding Adieu and Lust In Space, and also recorded appearances as the mother of audio companion Charley Pollard in the Big Finish Productions releases Zagreus and The Next Life.
Michael Craze, meanwhile, continued to appear in a variety of series throughout the Sixties and Seventies, including Z Cars and Journey To The Unknown. He also acquired a regular role on the radio soap opera Waggoner's Walk and formed his own short-lived movie production company, Mantic. By the mid-Seventies, Craze had relaxed his acting schedule, instead taking jobs as the manager of a pub and, later, a hotel. Sadly, Craze died on December 8th, 1998 from injuries resulting from an accidental fall at his home.
Doctor Who: The Handbook: The Second Doctor by David J Howe, Mark Stammers and Stephen James Walker (1997), Virgin Publishing, ISBN 0 426 20516 2.
Doctor Who: The Sixties by David J Howe, Mark Stammers and Stephen James Walker (1992), Virgin Publishing, ISBN 1 85227 420 4.
Doctor Who Magazine #212, 11th May 1994, "Archive: The Faceless Ones" by Andrew Pixley, Marvel Comics UK Ltd.
Doctor Who Magazine Special Edition #4, 4th June 2003, "Good Vibrations" by Andrew Pixley, Panini Publishing Ltd.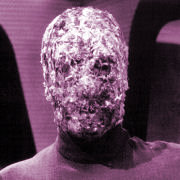 Original Transmission
Episode 1
Date
8th Apr 1967
Time
5.50pm
Duration
23'47"
Viewers

(more)

8.0m (47th)
Appreciation
51%
Episode 2
Date
15th Apr 1967
Time
5.51pm
Duration
25'22"
Viewers

(more)

6.4m (70th)
Appreciation
50%
Episode 3
Date
22nd Apr 1967
Time
5.50pm
Duration
23'10"
Viewers

(more)

7.9m (43rd)
Appreciation
53%
Episode 4
Date
29th Apr 1967
Time
5.50pm
Duration
24'28"
Viewers

(more)

6.9m (62nd)
Appreciation
55%
Episode 5
Date
6th May 1967
Time
5.52pm
Duration
23'34"
Viewers

(more)

7.1m (39th)
Appreciation
55%
Episode 6
Date
13th May 1967
Time
5.50pm
Duration
23'38"
Viewers

(more)

8.0m (33rd)
Appreciation
52%
---
Cast
Dr Who
Patrick Troughton
Polly
Anneke Wills
Ben
Michael Craze
Jamie
Frazer Hines
Commandant
Colin Gordon
Jean Rock
Wanda Ventham
Crossland
Bernard Kay
Blade
Donald Pickering
Samantha Briggs
Pauline Collins
Policeman
James Appleby
Meadows
George Selway
Spencer
Victor Winding
Inspector Gascoigne
Peter Whitaker
Jenkins
Christopher Tranchell
Nurse Pinto
Madalena Nicol
Ann Davidson
Gilly Fraser
Announcer
Brigit Paul
Heslington
Barry Wilsher
RAF Pilot
Michael Ladkan
Superintendant Reynolds
Leonard Trolley
---
Crew
Written by
David Ellis and
Malcolm Hulke
Directed by
Gerry Mill
Produced by
Innes Lloyd
Title music by
Ron Grainer and
the BBC Radiophonic Workshop
Story Editor
Gerry Davis
Costumes
Daphne Dare
Sandra Reid
Make-up
Gillian James
Lighting
Howard King
Sound
Gordon Mackie
Film Cameraman
Tony Imi
Film Editor
Chris Haydon
Designer
Kenneth Sharp
Associate Producer
Peter Bryant
---
Archive Holdings
Episodes Missing
Episodes 2, 4-6
Clips Extant
Episode 2 (0'03" in 1 clip)
Telesnaps Surviving
Episodes 2, 4-6
---
Working Titles
Whole Story
The Chameleons
Episode One
The Chameleons